Whatsapp is always working to make the messenger more exciting and these Whatsapp new features 2022 will make the messenger better.
So without wasting much time let's dive in and find out the exciting WhatsApp new features 2022.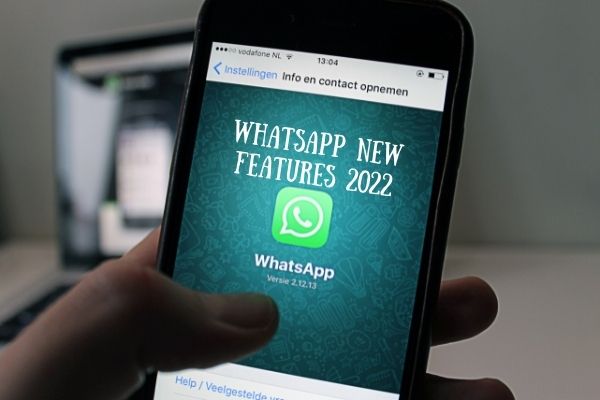 Read- How to Move WhatsApp Messages from Android to iPhone
Messages sent by other users will be able to be deleted by group administrators
WhatsApp is developing a new conversation function for group administrators. When it is released, WhatsApp group managers will be allowed to erase messages from anyone without their permission. Following that, users will receive a message that says, "This admin has removed it."
WhatsApp Web/Desktop 2-Step Verification
A new security feature for desktop and web users is in the works. WhatsApp may implement two-step verification on the web/desktop. Two-step verification is an optional feature that increases the security of your WhatsApp account. The two-step verification PIN differs from the 6-digit verification code sent via SMS or phone call. This is required when you log in to your WhatsApp account and aids in the prevention of illegal access. Currently, this function is only available on the WhatsApp mobile app.
Message reaction functionality comparable to Instagram and Facebook Messenger
WhatsApp is introducing message reactions that are similar to those found on Instagram and Facebook Messenger. This feature allows users to respond to the message. Users must simply press and hold on the message to which they wish to respond, then place their finger on the appropriate emoji. The reaction will be accessible to all group members and will display below the content.
Animated emojis are now available
WhatsApp is developing a new animated heart emoji for Android and iOS users. Users now see an animated heart pumping when they send a red heart emoji. It is now confined to the red heart emoji, but according to a new claim by WABetaInfo, the platform is working on introducing animation effects to more emoji.
Chat tool for community groups
The community function will provide the group administrator with more power. This feature allows you to create a group within a group. It will function similarly to an umbrella Discord community.
In the contact information area, you can find a search shortcut
The WhatsApp business intends to include a new search shortcut in the newly revamped contact information area. Next to the video call icon, a new search shortcut will be created. The new shortcut will also be shown in the Group Info section. This search option may currently be found on the app's home screen. You can use this function to search for any message.
Prevent others from seeing your WhatsApp status
The new WhatsApp shortcut allows you to modify the privacy settings for your status updates. The new shortcut will function with the new caption bar, which is currently under construction. The shortcut allows you to change the list of users who can see their shared status updates. According to WABetaInfo, when you tap on 'Status,' you will be able to see the shortcut that displays at the bottom of the screen. You will be able to rapidly pick WhatsApp contacts with shortcuts.
WhatsApp intends to undertake an audit of the documents provided in the session. Currently, you cannot see a photo or video sent as a document without first opening it. The review will seem like what you see when you share a PDF file as a document on WhatsApp.
Sharing the same photo/video in chat and as a status update
WhatsApp is developing a new feature that will allow users to share their WhatsApp status in a single window with multiple chats or groups. You must do this separately if you want to share a single media file on your status and with multiple chats. Users will be able to see revised captions with new functions using this feature. Users can select the selections they want to share by tapping on the camera icon in the Chat, Group, or Status area.
The voice call interface has been updated
The look of the app window that appears during a group voice conversation is being updated by WhatsApp. During a group call, the platform is adding voice waveforms for everyone. Voice waveforms resemble those found in voice notes.
Lat words for Whatsapp new features 2022
So these are ten exciting WhatsApp new features 2022. Please comment below to let us know which feature makes you feel excited.