In this post, we will discuss how to take screenshot on Oppo mobile phones. We will discuss different models of phones made by Oppo.
Mobile phones are no more considered as devices for only communications. In the last decade, mobile phones have changed the way communications were made.
Now with the call feature, mobile phones have added features like cameras, fast internet, social media apps, and other utilities. Now with a smartphone, you can perform activities almost like a PC.
There are several apps that do not let you save the images from its app or you may need to save some chats as a screenshot to send them to your friends or colleagues.
It is easy to take a screenshot on a PC but different smartphones have different techniques to take screenshots. We will discuss today how to take screenshots in different models of OPPO mobiles.
How to take screenshot on Oppo F9, F15, F17, A31, A53, A5s and A12
There are three easy ways to take screenshots on the Oppo phone. Before that, I will tell you how you have to update some of your settings.
You go to the Settings menu on your phone and at the bottom, you will find an option 'Additional Settings', press it. Inside that, you will get the screenshot option, press on it. Enable all the options inside it except the option 'Delete original image after editing'.
In some other Oppo models you have to go to settings, then to' Smart and Convenient and then into 'Gesture and Motions'. Inside this, you will find an option of '3 finger Screenshot'.
Enable this feature to take screenshots without hassle.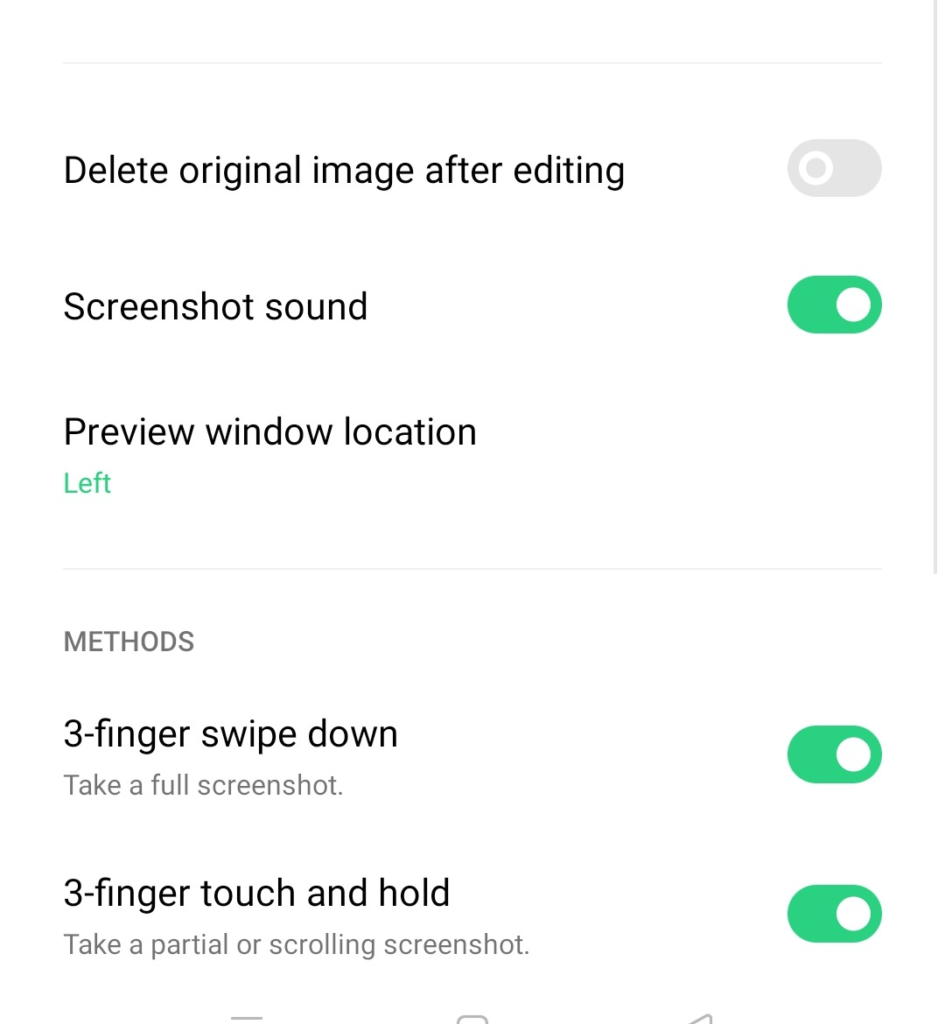 1st Method
The first and easiest method is to press your volume down key and switch button simultaneously so that you can take a screenshot of your phone. As soon as the screenshot comes, you will have two options, you can share by sliding upwards, sliding down can convert your screenshot into a long screenshot.
A long screenshot means that when you want to take a screenshot on a particular page or app, but you do not want to take only the screenshot as you see on the screen, but you want to take a screenshot of the whole page. Then after taking a screenshot, fly that screenshot downwards, then you will see the whole screen. Now the screenshot will be saved till you scroll down on it.
The second easiest way to take a screenshot in Oppo Mobile is to place your three fingers on the screen of Oppo's mobile phone and slide them from up to down.
It will take a screenshot on your mobile and the next option is to share it, convert it to a long screenshot or edit it.
By sliding up you can share it with your friends or colleagues via Whatsapp, Telegram, Mail, Bluetooth, or any other social media sharing app.
By sliding down you can make it a long screenshot. You can scroll down on that particular page to the point you want to include in the screenshot.
by just pressing the screenshot you can edit the screenshot like you can rotate it, crop it, mark any point, apply filters, and others.
If you do not want to take a screenshot of the whole screen and want to take a screenshot of a small part, then you put your 3 fingers on the screen of your Oppo phone but do not slide it down rather press the screen slightly.
This will show you a small screenshot window. You can adjust it as much as you want and after that pressing, the 'Save' button given below will save the same screenshot.
Wrapping Up How to take screenshot on Oppo
So here were three easy ways with the help of which you can take a screenshot on your Oppo phone. How did you like this post and tell me by commenting. If you have any questions or doubt then you can contact us.