In this post, we will find out how to clear search history on Amazon Prime app or more precisely the Amazon Prime Video watch history.
You may have a shared account and have watched a series or movie that you shouldn't have seen but that has an easy solution. Maybe you don't want your parents or children to find your watch history and want to clear history on Amazon Prime Video.
Maybe it's a movie you never want to see again because of how bad it is. Whatever the reason, in this article you will learn how to delete Amazon Prime Video history.
Amazon collects your browsing history to make the app more personalized and suggest content based on your browsing history.
Another utility of deleting a series or movie from the playback history is that Amazon Prime Video stops giving recommendations that you are not interested in. Especially if, as we have mentioned, you have seen a bad movie and do not want to see more of that type.
How Amazon personalized content section works
whenever you open the amazon prime video app on your mobile or TV it shows some recommendations based on your past view watch history. This is all done by collecting data and then processing it, which is called Deep Learning.
The same technology is also applied in the Amazon shopping app where it suggests you shop items by analyzing your search history and shopping history. If you want to delete the same then you can refer to our post on how to delete search history and order history on Amazon.
Let's see how you can easily clear your browser and app watch history.
How to delete Amazon Prime Video history in your browser
Amazon's video service stores your viewing history to improve its recommendations, much like Netflix. That is why, if you have seen a series or movie that you consider should no longer appear among the content that may interest you, you must delete said stored data.
This is how you can do it through your browser:
Go to the Amazon website and sign in to your Amazon Prime account
Hover over Accounts & Lists in the top right corner, and select My Prime Video from the dropdown menu icon.
Or you can directly visit the official website of Amazon prime video website.
Once you are on the Prime Video page, again in the right corner click on Account & Settings tapping on your username.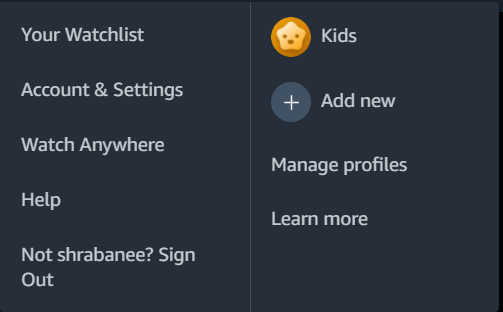 On the next page click the 'Watch History' tab.


All the movies and shows you have seen recently will be here. This includes videos you've watched on other devices, like your smartphone, Fire TV devices, Smart TV or even on Laptop.
To remove a show or movie from your history, simply click Remove from viewing history.
You can also check the "I'd rather not use this for recommendations" option if all you care about is accurate recommendations. It can be found on the right side of the screen.
There is no specific option to delete all Amazon Prime Video history, so you will have to go through the browser one by one.
Its a bit hectic job to delete amazon browsing history one by one and if you have a long browsing history but currently Amazon does not have a bulk select
How to clear search history on Amazon prime app
Amazon's Prime Video app does not have an option to view or delete your watch history. However, you can delete the search history, at least no one will know what we have searched to see on our mobile device when no one is present.
Here's all you need to do to clear your search history from the Amazon Prime Video app:
Open the Amazon Prime Video app on your smartphone, and sign in to your account
Touch your avatar, in the My space option located in the lower right corner of the application
Go to the Settings option, the gear icon, positioned in the upper right corner
Tap Clear video search history
Conclusion
And that's it, you will have managed to delete both the series and movies that you do not want to be present in your Amazon Prime Video account using the browser and the search history using the app. So this is how you can clear the recently watched history.
After performing these steps, have the platform recommendations improved?