Ahrefs is one of the best SEO audit tools, and the cost for monthly or yearly subscriptions is relatively high for Ahrefs paid tools.
There is no doubt that Ahrefs and Semrush stand at the top when it comes to site auditing and SEO tool. But they are expensive too and almost unaffordable for a new blogger. But there is a way to use Ahrefs for free.
Ahrefs webmaster tool is free to use the tool for your blog and website if the blog or website belongs to you or you have the ownership rights.
Start your Ahrefs webmaster tool registration with the following steps-
Go to Ahrefs webmaster and log in with your Google or Facebook account. You can also sign up using your email address.
Then add your website or blog by clicking on the add new project button. When you add your URL, it will take you to the options page to verify your ownership.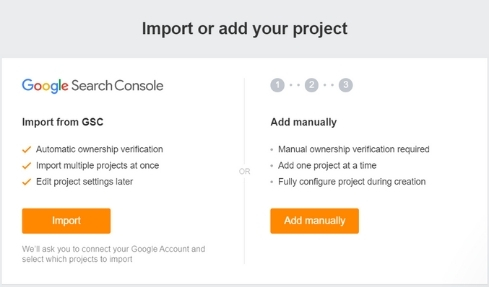 The best way to verify your ownership in Ahrefs webmaster tools is through Google search console or HTML tag, where you have to paste an HTML tag in your website, just below the head opening tag.
In the case of GSC, Ahrefs will import all the website data from it and if you have multiple websites registered with the search console then you can import all the websites with just a click.
There are other options like the DNS record method and HTML file, which you can follow if you want to confirm ownership differently.
After you verify your ownership, it will take you to the site audit schedule page to schedule your site audit frequency and save it.
Your blog will be shown under the dashboard page's project, so start the new crawl, and the Ahrefs webmaster tool will crawl your complete site.
If your blog has fewer posts or pages, it will take a little time, but if your blog has more pages, it will take some time to crawl the whole site. It has 10000 internal page crawl limits, which are more than enough.
After crawling, the Ahrefs webmaster tool will email you for a completion alert. It will present you with the crawl log.
Now you can go to the overview tab, and it will show the complete report of your websites like Crawled URLs distribution, Health score, issue distribution, and much more. You can find the issues which are affecting your website's health score.
You can find out the issues in the detailed analysis report and resolve those issues manually or through some plugins. After resolving, you can ask for a new crawl, and Ahrefs will initiate a new crawl. 
The new crawl button can be found in the top-right position of the overview page.
Other options include detailed error reports, page explorer, link explorer, internal pages, internal links, on-page, social tags, duplicate content, and more. always try to keep your site health score above 90, it will help you to rank higher.
Your score will be low if you have broken links or HTTPS pages pointing to HTTP pages. Fix these issues to have a 90 above score.
The new and best feature that will make a mark in the coming future is the new backlink feature where you can see all the backlinks of your website without paying a penny. Previously you had to pay for this service.
You can also check your domain rating, page rating, referring domains, keywords ranking of your website or blog completely free. Ahrefs Keyword Explorer is now free, so you can track which keywords of your website are ranking and what position. So you can utilize this data to rank your website higher for the same keywords by creating some more content around the keywords.
And the best part of the Ahrefs webmaster tool (awt) is you can add unlimited projects to your account.
With AWT, you can also add check my link Chrome extension, and this will make your task easy of finding broken links in your blog. So fix those broken links to have a higher score.
Conclusion-
The services that Ahrefs webmaster tool provides are quite helpful and help you immensely plan your on-page and off-page SEO. Another best part of the Ahrefs webmaster tool is that you can add more than one website to your dashboard if you own them.
Combine it with the Google and Bing webmaster and google search console tool and use it regularly to rank your website and keywords faster.
Learn more