In this post, we will discuss the two most popular image and video online platforms. We will see in Canva Vs Crello who wins the race when compared in different aspects.
There a plenty of online graphic designing platforms but these are the two topmost platforms.
Canva Vs Crello (Vistacreate) valuation
T. Rowe Price's capital injection of $200 million (USD) in 2021 has increased Canva's value to $40 billion. Franklin Templeton, Sequoia Capital Global Equities, Bessemer Venture Partners, Greenoaks Capital, Dragoneer Investments, Blackbird, Felicis, and AirTree Ventures were among the new and existing investors who participated in the round.
Vistaprint acquired online graphic design editor Crello and its parent company, stock photo repository Depositphotos — for a total price of $85 million. The Crello is now officially Vistacreate.
Crello (Vistacreate) Vs Canva: The online design platforms
Adobe Photoshop or CorelDRAW are some popular offline graphic design software, but it needs a lot of operating knowledge to create awesome graphic designs. These softwares are not for new learners, as you will find it very hard to create a graphic or infographic for your website or blog. If you want to try blogging tools for free then these seven tools are sure to check out.
Graphic Design Canva Vs Crello (Vistacreate)
When it comes to using the internet to promote your business, the choice between Crello Vs Canva is the big question. Both are excellent online graphic design tools that have very similar looks and ease of use.
But did you know that not only do they meet all the needs of a competent user differently?
So if you're looking to find out which one you should ultimately go with, then you've come to the perfect place to find out.
The first thing you have to consider when comparing Crello Vs Canva is how user-friendly both the software are.
Both of these awesome web design tools have simple-to-use interfaces.
They both allow for a great deal of customization and allow for various types of integrations.
But the real defining feature of both these programs is the ability to use interactive pages that are absolutely gorgeous.
Crello is primarily known for its amazing animated templates, whereas Canvas has several amazing add-ons that allow users to create some stunning designs.
Graphic Design Canva Vs Crello (Vistacreate): Free option
Crello and Canva offer free options where you can use their tool for free but with some limitations.
The measure limitations are
All predesigned templates are not available for free users in Both Crello and Canva.
The stock images also have limitations where you can not use all the images, only a few available for free users. If you use prmium photos then there will be a watermark.
You can not add your custom fonts in Canva free version, but in Crello, you can upload your custom fonts.
The drawback of the free version of Crello is that, unlike Canva, it just lets you download five designs per month, which is very little if you are a blogger or social media professional.
So for free users, Crello has more options than Canva, but the drawback is the download limit.
So in the Free option, Canva is a winner.
Ease of Use & Interface
Both Canva and Crello have facilities like drag and drop, repositioning, resize, etc., options. Both the App has easy-to-use features, but I feel Canva is better.
Graphic Design Canva Vs Crello (Vistacreate) Pricing
The next thing to consider in the comparison is the pricing for its premium version.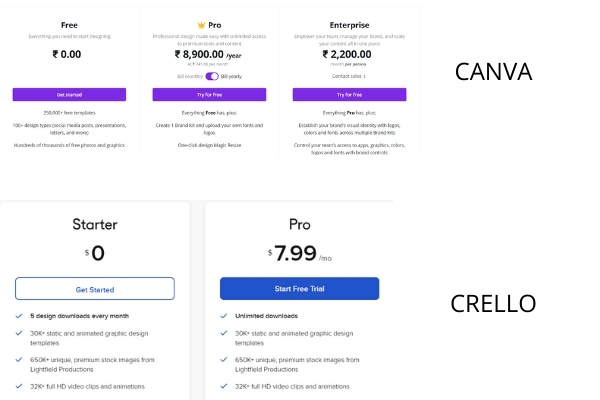 While Canva has three options, Crello has two price slabs. Both are free for starters who want to learn, then Canva has pro and enterprise, whereas Crello only has the pro option.
Canva pro will cost you $12.95 as compared to $9.99 for Crello pro.
Canva Pro Vs Crello Pro
Canva Pro Vs Crello Pro Free Trial
Canva Free Trial
Canva Pro offers a 30-day free pro trial. You need to enter your credit card details, and when verified, you will be granted a 30 day free trial of Canva Pro with all features unlocked. You can cancel the subscription before the 30 days if you don't like the service, and you will not be charged any amount.
What does Canva Pro offer?

You can have your brand kit, which means you can add your custom fonts and colours for your use.
You can resize your designs to a different size with just a click.
You can download your design in different sizes to fit your need.
You can download your designs as animations.
420K of free templates are provided by Canva.
More than 75K stock photos, videos, and audios are there for your use.
Provides 100 GB of free cloud storage so that you can save your designs in the cloud.
One-click background removal.
You can download your designs with a transparent background.
You can add your team members and share your design with your team.
You can add your custom fonts.
Crello Free Trial
Crello offers a free seven days free trial. You can use your credit card or Paypal account to avail of this service. And if you don't find it useful, you can cancel the subscription before the free trial ends, and you will not be charged any amount.
What does Crello Pro offer?
You can create unlimited designs and can download the same to your local storage.
More than 300K free templates provided.
650K stock photos from Lightfield productions and 180M stock photos and videos from Depositphotos provided in the pro version.
You can work with your team members.
One-click background removal.
In the pro version, Canva has a slight edge over Crello, but it depends on users and their preferences.
Canva Vs Crello (Vistacreate) Educational Offer
For students and education professionals both Canva and Crello offers free `lifetime educational account for free. You can access almost all features in the Educational version as in the premium version.
You need an educational (Edu) mail to sign up in Canva. You need to send your teacher ID card or Student ID card for verification, and once verified, you can use the Edu version of Canva.
And in Crello, you need to fill out the form. Crello will validate the information and will provide you with a lifetime educational account.
Present and Record feature in Canva Pro
Canva Pro has an option to present and record with the help of which you can present any design you have created and record yourself using your computer's webcam. And finally, by downloading this video, you can send it to anyone.
Third party integration
On Canva, you will get many third-party integrations such as Instagram, Facebook, Twitter, Email, Dropbox, Mailchimp, Pinterest, LinkedIn, etc., with the help of which you can share photos directly to your account from the Canva.
But there is no third-party integration on Crello. This means that you will have to download your design, and only then you can share that design on your social media or email.
How to get Canva Pro for 1 month absolutely free

You can get Canva pro for absolutely free for one month, for the trial period. you can enter the credit card details, and Canva pro is free for one month. I will upload a video to teach you how to use Canva pro for free. Below are some free Canva Pro account Id and passwords. You can use them but don't change the password. You can comment below for a free Canva Pro account.
Some Cool Tips for Canva users
Some Keywords for Canva users
Elements:
Monoline- Type monoline and you will get monoline characters.
Girl Power- For girl power elements.
Me time- For hobbies and exercise elements
Line lady- single line lady drawings
Businessman and Business Woman- For business-related elements
Some free alternatives of Canva and Crello you must try
Easil
Designbold
Designhill
Snappa
Some final words in Crello Vs Canva
As a blogger, I find Canva more manageable and user-friendly, but it's my personal opinion. Canva and Crello both offer some great features and must-have tools to create stunning designs with less effort and time.
FAQ
Is Canva better than photoshop?
You cannot compare both because they both have their advantage and have disadvantages. For example, the benefit of Canva is that you will not have to do any course or learn a lot to design it. If you know how to operate a computer properly, then you will learn it quickly.
To learn the same Photoshop, you may have to do a course, or you will have to sit with an experienced man and learn from him because Photoshop is not easy.
If you are a blogger or a social media content creator, then Canva is more than enough for you. But if you are an architect or make complex designs, then Photoshop will be better for you because those designs cannot be done in Canva or perfect like Photoshop.
Which is better Crello or Canva?
Both also have the same kind of interface with the same kind of resources. It depends on personal needs, but as I have used both personally, I will recommend Canva.
What is better than Canva?
There are other alternates to Canva but it depends on personal choice that which one you find better. Some alternates are
#Easil
#Designbold
#Designhill
#Snappa
#PicMonkey
#Crello
#Stencil
#InDesign
#PicsArt