Ranking your blog post organically is one of the most difficult things, but these seven powerful SEO tools offer many options. These tools will make it easy for you to rank your blog post on search engines.
You have to take care of three things if you want to be on the top of the Google search page, and those are technical SEO, on-page SEO, and off-page SEO. I have already discussed how to take care of these 3 in a previous post.
You have to do a regular audit of your website so that all your parameters remain in green and you are missing no points off your Optimisation. Although you can do a manual audit of your website, this work will become a headache for you, so it is best that you seek the help of an SEO free trial tool.
The next big thing is content audit and finding relevant keywords. You can always use Google search engine to find keywords if you are experienced in SEO and if you are less experienced then you can use Google keyword planner which is a free keyword research tool for advertisers.
Along with this, you will need keywords for your new posts, although I have always insisted that you do more topic research than keywords.
How to do Topic Research I have explained in this video which you will find below. You must see it to know how to get the complete topic and not just the keywords for writing.
Let's learn about 7 powerful SEO tools (SEO free trial) that will help you write a better post and make your website SEO friendly. You can go for their trial before buying paid plans. These tools can do keyword research, rank tracking, competitor analysis, on-page SEO, SEO audits and help you in link building.
7 Powerful SEO Tools That Offers Free Trial
Ahrefs
Ahrefs is counted among the best SEO tools globally, and it is a powerful SEO tool. But, unfortunately, this tool is too costly, which is not easy for a new blogger to afford. But it also gives you a free alternative, which is its webmaster tool.
On this tool, you can register your website and check all the metrics of your website. But on this tool, you cannot do your competitor analysis and keyword analysis.
Ahrefs also offers a 7-day trial for its tool, but it is not free. In this, you have to pay $ 7 for 7 days, and after that, your monthly charge will start as per your selected plan if you do not cancel your subscription.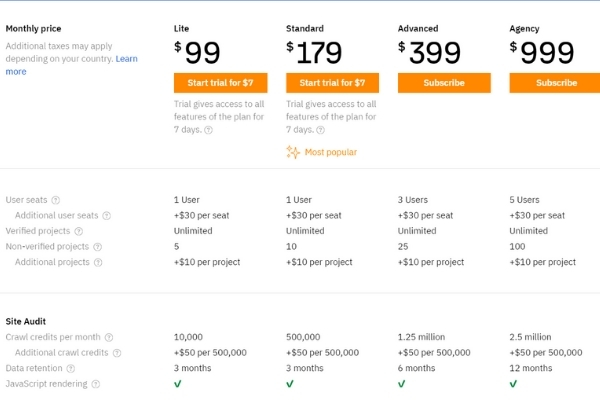 What Ahrefs help us do
Keyword analysis
Backlink Analysis
Keyword gap analaysis
Site Audit
Content Audit
Keyword postion
New and Lost Backlink alert
Ahrefs free trial without credit card
Can we access Ahrefs free trial without a credit card?
Yes, there are other ways of payment which you can opt for like Paypal, Amazon Pay, or Wire transfer to avail of the 7 day trial of Ahrefs tool.
And if you don't want to pay for Ahrefs tools then you can use their webmaster tool which is absolutely free for your website.
SEMrush
If one tool is considered the best tool after or par with Ahrefs, then it is SEMrush. SEMrush is also a powerful SEO tool to do a site audit, content writing, keyword research, competitor analysis, etc. In the SEMrush free version, you can do 10 keyword research, 1 project,100 pages crawl, 10 SEO Ideas, 50 social profiles for monitoring, and 10 social profiles for posting.
If this is not enough, then you can always upgrade to use Pro plans. It has three plants called Pro, Guru, and business. So in the pro plan and Guru plan, you will get a 7-day free trial, but you will not get any free trial in the business plan.
It has another plan called Enterprises which price is not mentioned, and you can negotiate for the same with SEMrush executives. But it will cost you more than business, almost 2 times the business plan. So here is the list and features of the plans that SEMrush offers you.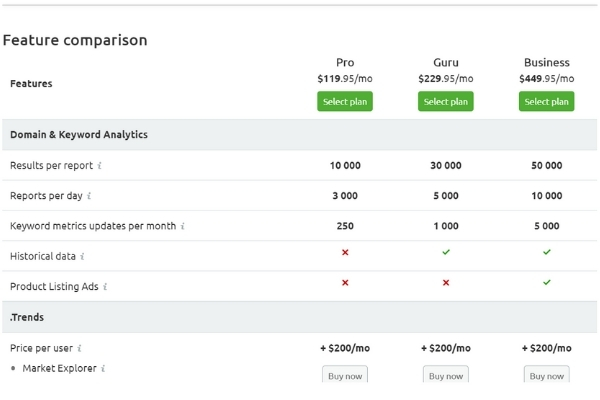 So how to get the 7 days free trial of SEMrush?
You have to click the upgrade my plan option and then enter your credit card or Paypal details. If you enter the credit card details, then a $1 charge will be deducted by SEMrush, which will be reversed immediately. This is just for confirmation by SEMrush that the card details are correct and the card is a working one.
SEMrush free trial without credit card
To obtain SEMrush free trial without a credit card, you can use your Paypal account or even debit card.
Ubersuggest
UberSuggest is also an excellent and powerful SEO tool that offers a free trial and is excellent for doing stuff like backlink analysis, keyword analysis, competitor analysis, keyword research, and site audit. It used to be a free tool long ago. But later, Neil Patel bought it and made some up-gradation in it, after which it was made a paid tool. UberSuggest also has a chrome extension that is completely free to use but has some limitations.
UberSuggest plans are much cheaper than Ahrefs and SEMrush. There are also 3 plans: Individual, Business, and Agency. All plans have a lifetime option in which you pay 10 times of monthly charge and you can use the tool for the lifetime.

To get a free trial in UberSugest, you will have to create an account. If you already have an account, then you can use the upgrade option. After which UberSuggest will ask you to share your credit card details. Like SEMresuh, UberSuggest does not deduct any charges. Only your credit card details will be saved with Ubersuggest. And if you do not cancel your subscription in 7 days, the charge of your selected plan will be deducted from your credit card on the eighth day.
Moz
Moz is also an excellent SEO tool and it invented the DA, PA, and Spam score concept which has became a yardstick for many SEO executives. On Moz, you can do all the work that you do on other SEO tools such as backlink analysis, competitor analysis, site audit, keyword research.
Unlike others, the Moz SEO tool offers you a trial period of 1 month, not 7 days, during which you can use its pro feature. To try Moz Pro, you will first have to create an account for yourself. After that, you will click on "Start My Free Trial" and enter your credit card details as soon as your 1 month Moz Pro plan will start. It will be completely free for 1 month, and after that, you will be charged $ 159 per month.
Many people ask why has Moz charged my card and the answer is very simple you did not cancel your subscription before your trial period ended.
Longtail Pro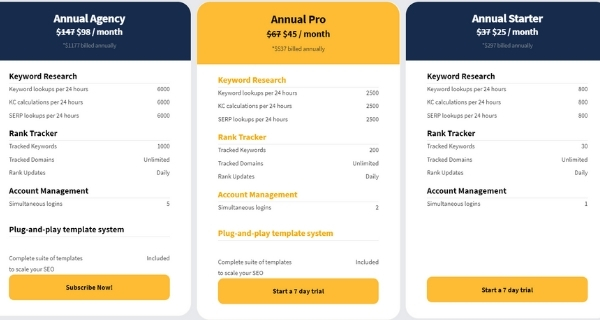 Longtail Pro is a great SEO tool that offers a free trial and specifically for keyword research. It has three plans which are Annual Agency, Annual Pro, and Annual Starter. You get a 7-day trial period in Annual Pro and Annual Starter, whereas you do not get any trial period in Annual Agency. The Annual agency is for special agencies with many clients and has to do many keyword research during the day. Annual Starter or Annual Pro is fine for a new blogger.
You will get Keyword Research, SERP analysis, backlink analysis, and rank tracker on this tool, along with their special SEO course which you can find in the dashboard which is absolutely free for Pro users.
It is very easy to register in LongTail Pro, you have to create a new ID from your email ID and after that choose your plan and give your credit card details after which your 7-day pro plan will start. If you cancel within 7 days, then you will not incur any charges and if you do not, then you will have to pay the accrual charge of your plan.
SE Ranking
SE ranking or search engine ranking is also a powerful SEO tool that offers a free trial on which you can check your ranking, traffic analysis, competitor analysis, marketing plan, website audit, backlink monitor, social media monitoring, etc.
This is the first such tool on this list on which you do not need a credit card. You can go for Pro just by registering. This tool offers you a 14-day free trial. After which if you wish, you can continue it
Cognitive SEO
All-in-one SEO tool with a lot of features.
This has an excellent collection of metrics.
This tool is excellent for detecting negative SEO attacks.
Finds issues with on-site SEO.
For competitive analysis, this is fantastic.
One-on-one training sessions are available at the company.
This tool offers a 7-day trial period in which you can register and give your credit card details, and you will get a 7-day pro subscription absolutely free. If you do not find this beneficial, you can cancel the subscription before 7 days, and you will not have to pay any charge. And if you like this tour and want to continue its subscription, you can subscribe or use its monthly or yearly plan.
Wrapping Up Powerful SEO Tools That Offers Free Trial
So these were seven powerful SEO tools that offer free trials. Which one do you use or which one you want to use? Definitely tell me by commenting below. Apart from this, many other tools offer free trials. As soon as I get any such tool, I will try it myself. If it feels useful, I will definitely update his name in this post.
FAQs
Why has MOZ charged my card?
If you do not cancel your subscription within one month then MOZ will charge your card for the next month.
How to SEMrush cancel subscription?
SEMrush provides you a 7-day free trial. You have to cancel the subscription before the period ends. To cancel click the account logo in the top right corner. accounts –>Payments–>Subscription info—> Contact us. You have filled a short form to cancel the subscription.