Are you using the Quetext Plagiarism checker free or paid version or thinking to opt for the paid plagiarism checker tool. I will describe where Quetext stands when compared to other tools and also tell you how to use the Quetext plagiarism checker for free. Also, we will discuss why you need a plagiarism tool to check your content before you post on websites or even submit your projects to the university.
What is Plagiarism and Why you should check it
We will review one of the most famous Plagiarism tools and find out if the Quetext Plagiarism Checker is worth the price it offers not and how accurate is Quetext.
If you are a blogger, then plagiarism is one of the most important things you cannot avoid. Plagiarism arises when your content matches with content that is already available on the web. Sometimes bloggers translate content from any local language to English or vice-a-versa and think there will be no plagiarism, and then I suppose you might be wrong.
Sometimes even natural writing can have plagiarism, so checking plagiarism is before posting is a must because Google does not rank plagiarized content.
So below are the 7 best plagiarism testing tools that I have tested personally.
Quetext
Copyscape
Plagiarism Detector
Scribbr
Grammarly
Duplichecker
NoPlag
Quetext
Quetext is one of the best plagiarism detection tools available for bloggers. Quetext provides 3 free plagiarism detection for you, and then you have to pay for the next project. The word limit for free plagiarism check is 1000 words. After that, you need to sign up with your current email address, and you can start checking your documents.
I rate the plagiarism checker Quetext so high because when I ran an experimental plagiarism check on all the platforms with the same content, the most accurate result was from Quetext Plagiarism Checker. The second best was Copyscape, followed by Plagiarism Detector.
Technologies used by Quetext
Contextual analysis– Deep search used by Quetext goes beyond just matching words which means it also takes account of the surrounding words to a particular word.
What does that mean?
It means if someone has paraphrased some lines or has used changed the word order, then also Quetext can detect plagiarism.
Fuzzy matching– Quetext algorithms use state-of-the-art natural language processing to detect "fuzzy" matches. Several words have been replaced, or synonyms have been used to avoid any plagiarism.
What you get in Quetext Free
In the free plan, you can check up to 2500 words or 5 pages per month. Quetext plagiarism checker calculates 500 words as a single page, so if your content is 600 words, then it will be calculated as 2 pages. So you will be left with 3 pages only for that month. Your monthly quota will be renewed at the start of every month.
Quetext Pro
Quetext has three Pro plans for you. You can select from one of them according to your need.
The PRO Basic plan of Quetext starts at $9.99 per month and $69 per year. It allows you to check plagiarism of 200 pages per month.
You can also try the Pro features for $0.99 for 3 days as a test.
Quetext has another plan called PRO Plus which costs $19.99/mo or $129/yr. In this plan, you can check 500 pages per month.
The third plan is PRO Organization which costs $49.99/mo and $499/yr. In this plan, you can check 1,000 pages per month.
What you get in Quetext Pro
Deep search enabled in Pro- It means it does not only match words but also meanings.
Citation assistant to help you make your source citation easy.
In Pro, you can search by file so that you don't have to copy and paste the text.
You can download your plagiarism report PDF file.
Up to 50pages per search or a 25000 words limit for every search.
Source Exclusion- This means you can exclude a source URL from where you have copied the exact document.
How accurate is Quetext plagiarism checker
If you test Quetext with other free plagiarism checkers then, it is way more ahead of them. It will give you almost 90 to 95 percent correct results with the source URL. It also indexes pages very fast compared to other plagiarism test tools. So if you are copying a very recent article, then there is a huge probability that most plagiarism checkers will mark your article as 100% unique. Still, at Quetext, when I tested with an article just published before, some hours, it caught the source of the article.
Is Quetext a good plagiarism checker and should you go for its Pro version?
The plain and simple answer is yes. If you are creating content regularly, then the free plan will be not enough for you. If you are creating 20 articles per month of 1200 words on average, then you will need around 50 to 60 pages at least every month if you are still checking your documents on tools like small SEO tools or any other free plagiarism tool and thinking that your article is 100% plagiarism-free.
It uses DeepSearch Technology and ColorGrade™ Feedback to identify the exact matches and the fuzzy matches. In addition, it has a great user interface where the match report goes side by side with your document so that you can see the source where it has matched and the match type.
Is Quetext safe to use?
Yes, it is one of the best in the industry, and with DeepSearch Technology, its result is more almost accurate, and it also provides you with the source link of any plagiarism detected.
Also, Quetext claims that it does not store any of your documents in their database which means your document is safe.
Quetext does not let you make more than one account from an IP address, but I have described how to make multiple accounts easily in the below video. If you cannot make it then in the below table, I have provided some Emails and passwords to use in Quetext.
How to use Quetext plagiarism checker free, Quetext premium account free
Quetext free allows you 5 free searches per month, so create a free account using a new mail id. Remember Quetext does not allow temporary mails, so open a new Gmail, Yahoo, or any other mail service provider.
Connect your PC through Mobile Hotspot and use 3 emails to create three Quetext usernames. Remember to open in the guest mode of Chrome, not in the incognito mode.
Once three of them are created, disconnect your PC from the hotspot and connect again after 30 minutes.
Join my Telegram Channel for Quetext plagiarism checker free IDS and also WordPress themes and Plugins.
CopyScape
Copyscape is also a good tool for plagiarism checks; it allows 5 checks for free users daily. But free users have to enter the link of your post to check the plagiarism. If you want to upload your word file to check for plagiarism, you have to buy credits.
The minimum credit is $10, which you can pay by Paypal or Credit card directly. Unlike others, the credit will be deducted only when you perform a search, not monthly or yearly.
Plagiarism Detector
Plagiarism Detector has both free and paid versions. The free version lets you check up to 1000 words, and if you want to check more words, you have to buy a premium account for that.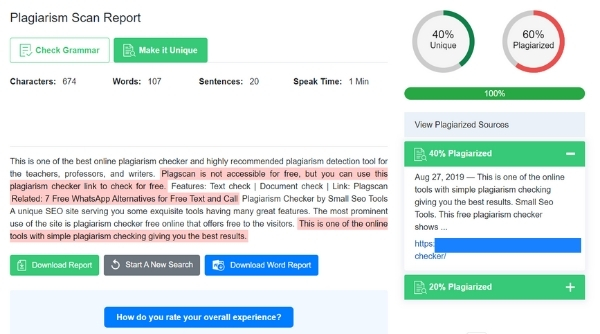 I found this one best in the free one as compared to small SEO tools or Dupli checker. Though there is still room for improvement but this one is certainly best in the free one. This is my personal experience.
Scribbr
Scribbr is more for students or researchers; this tool is in collaboration with Turnitin. But as a blogger, you can also use it, but it is a paid tool. As Turnitin is only available for universities or educational institutes, you can use Scribbr as a replacement for it or use Quetext.
At the moment, Scribbr is not offering an annual subscription for the Scribbr Plagiarism Checker. However, plagiarism checks can be bought separately — prices depend on the size of your document.
Small document (up to 7,500 words)-$18.95
Normal document (7,500-50,000 words)-$28.95
Large document (50,000+ words)-$39.95
Grammarly
Grammarly is free for the first 30 days, and then you have to pay for it to use it. The premium account costs $29.9, $19.98 per month billed quarterly, and $11.66 per month when billed yearly.
Apart from plagiarism checks, it also helps you in writing. It checks your grammar, functions, and readability.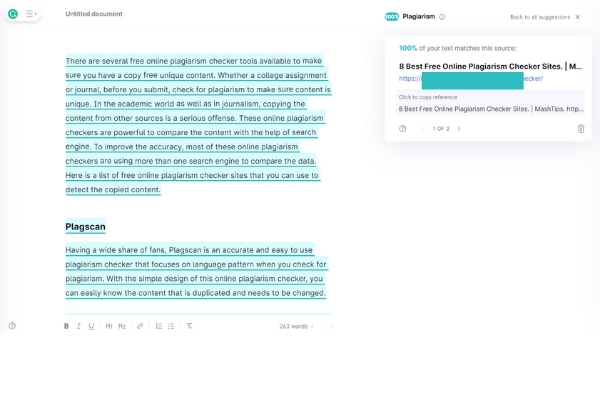 Grammarly determines your writing tone, rewrites the sentences in a better manner, checks your readability, suggests word change, and others. Grammarly also has a completely free chrome extension.
If you are a free user, then it will only check your spelling mistakes and punctuation.
Duplichecker
Provides 50 scans for Replicate content per
Daily Easy and Easy navigations
Supports several file formats Such as .doc and .txt
Perfect plagiarism checker for Webmaster
Permit to scan 50 plagiarism text in the Only day
Text Evaluation tools to Test word count of Articles. Check Site statistics and Domain Name Authorization checker.
Handling content Promotion and search engine optimization Actions
Duplichecker is among the most famous and quite popular free internet plagiarism checker and plagiarism removal sites that go via billions of sites online and provide you with some other necessary improvements in a couple of seconds. Unlike other online Duplicate Content checkers on the World Wide Web, Duplichecker is free, though it has superior features as the free subscription variant.
Quetext accounts update from 24.02.2021. you can do 5 checks every month.
Also read- How to get a Free Canva pro account for your Graphic designs.
FAQs
What is Quetext used for?
Quetext is one of the best tools to check plagiarism in your content.
How much does Quetext cost?
There are different plans described above. The paid plan starts from $9.99 and can go up to $49.99.
How can I tell if a text has been copied from the Internet?
You need a good plagiarism checker to do so. Though you can do that manually with help of Google but it will take a lot of time to do so.
Wrapping Up
These are the 5 best plagiarism detectors, there are many others, but these tools I have used personally. You can comment below if found a better one for yourself.