If you are a blogger or SEO professional then Keyword research is a must for you. In this post we will find out how to do keyword research manually and that too more accurately than any paid tool. This is the best way to do how to do keyword research for blog posts and this is how to do keyword research for free.
Search engine optimization is the core reason for any blog or website's success. In this article, we will learn how to do keyword research manually without paid tools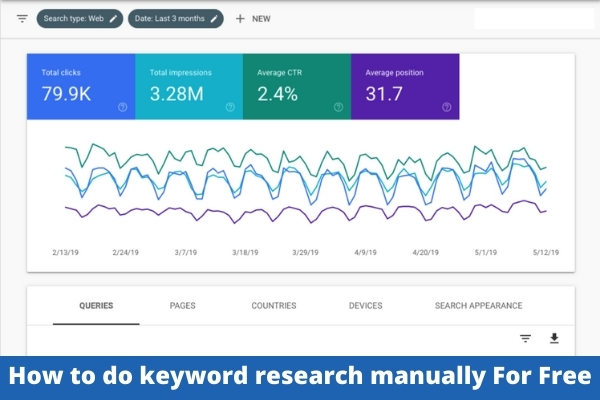 Most of the new bloggers make the mistake of writing articles without doing proper keyword research. Your content may be awesome but is it getting searched over the internet. Is your content optimized for your focus keywords?
The most important part of blogging is on-page SEO and the most important part of on-page SEO is keyword research. If you are craving for organic traffic then this will guide you on how to do keyword research for blog posts.
If you do not do your keyword research evenly or do not do it properly, then no matter how hard you work, your blog can never grow. I have learned in my 10-year blogging and SEO journey that on-page SEO is more important than off-page SEO.
There are a lot of costly tools to do keyword research which is impossible for a new blogger to buy. But I will tell you an easy and tried way by which you can do keyword research easily and without spending a single rupee.
If you want to compare this technique with expensive keyword research tools then try these seven tools that offer a free trial period.

Doing keyword research has three measure steps. The first one is finding a longtail keyword, the second is checking the volume and the last one is checking the difficulty.
We will find all these and will learn the best way to do keyword research manually and keyword research for blog posts that will bring huge organic traffic.
Types of Keywords
Before doing research, you should know the kind of keywords you have to find out.
Informational keywords
Shopping keywords
Navigational Keywords
Branded Keywords
Geo-Targeted Keywords
Informational Keywords
Informational keyboards are those that people type or search on someone's search engine to get information about any one thing. For example, if we search on Google Barack Obama, then we mainly want to know about Barack Obama.
Shopping Keywords
Shopping keywords are mainly those that we search on any search engine when our intent is to buy something. Like Nike shoes, this is a keyboard that most people search for only when they are thinking of buying a shoe.
Navigational keywords are those that a user searches when he wants to visit a particular website but he does not know the exact URL of that website.
The search volume of such a keyboard is enough, but you will get very few clicks when writing a blog on it because most of them are genuine because they can go to those sites.
Branded Keywords
Branded keywords are those in which a person wants to know a product or any information of a particular brand. For example, if we take the keyword which is Pamela Anderson Washington Post, then although information has been asked in this keyboard, but by adding Washington Post, the user has also told that the information he needs is from Washington Post.
It is very difficult to rank with such keywords because the user is looking for a specific type of brand.
Geo-Targeted Keywords
Geo-targeted keywords are those on which the user is asking for information but is targeting a particular geographic area. For example, Best Restaurants in New York, through its bird, the user wants to know about the best restaurant, but at the same time, he has added new work and told the search engine that all these restaurants should not be new work.
The purpose of telling you the type of keywords was that before choosing any keyboard, you must test its user intent. If a keyword is navigational and you wrote an informative article just by looking at the search volumes or its difficulty on it, then you will not get much benefit from that article because you will not get much traffic from that article.
So before choosing best keywords for your blog or website you should find the nature of that keyword and its search intent.
So let's start our topic that how to do keyword research manually
Most of the bloggers and website owner depends heavily on Keyword research tools like Ahrefs, SEMrush or Ubersuggest etc. If you are a new blogger then I will always advise you to go with long-tail keywords as they are easy to rank on search engines. Competitive keywords are always hard to rank when your website is relatively new.
If you use Chrome browser, Opera browser, or Brave browser, then you can download two extensions named Keyword Surfer and Keyword Everywhere. Both these extensions will help you to know the keyword volume and related keywords. These chrome extensions will help you immensely in your keyword research process.
According to your niche prepare some seed keywords. For example, if your niche is cooking and recipes then 'Chicken' can be your seed keyword.
Seed keywords are those which are short tail and you can make it a long tail by adding some words to it.
There are two websites that I love because they help me convert my seed keywords to longtail and on top of that these tools are completely free.
The first one is Answer The Public and the second one is Answer Socrates.
In Answer The Public I entered my seed keyword as 'Chicken' and it gave me many topic ideas.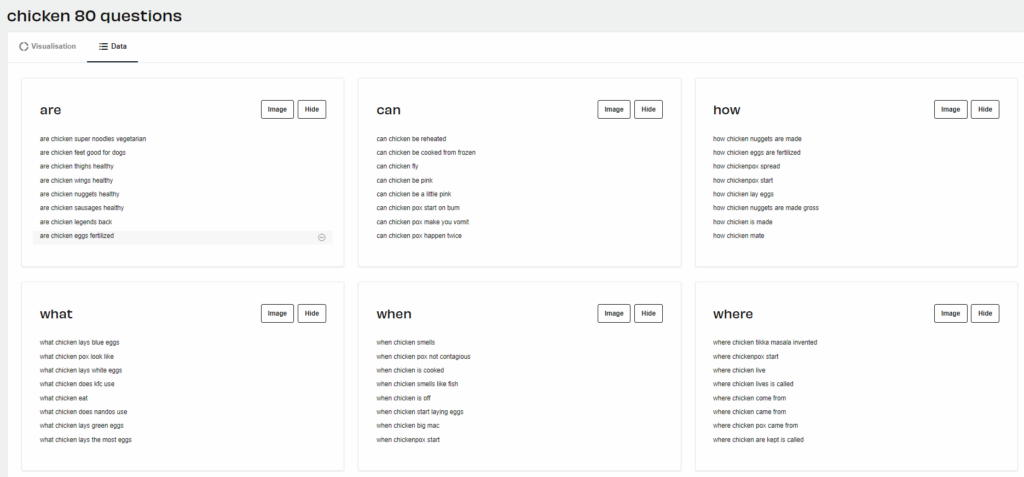 Similarly, you can put your keyword in Answer Socrates and it will give you a bunch of longtail keyword ideas. You can download them as an excel file.
Also, you can take the help of Ahrefs Keyword Generator which is absolutely free to use but many have not heard of it.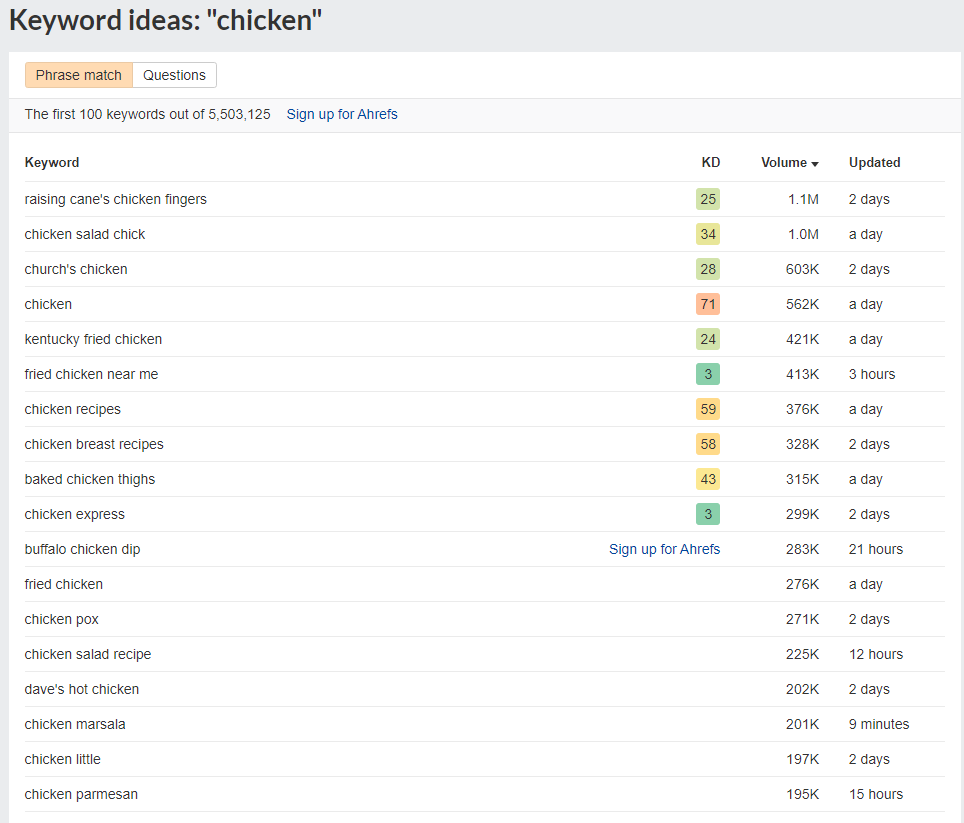 Also, there are other websites like Keyword Shitter which makes your seed keyword into a bunch of long-tail keywords.
So let's jump into the main process where we will find if the keyword is easy and can we rank it for.
First Method- How to do keyword research manually
So our first method is KGR Method or Keyword Golden Rule Method to determine the keyword difficulty. In this method, we target keywords that have a search volume of 500 or less.
To use this method, first, you open Google in your browser. In the search bar, type any of your keywords and search for them. Because of the installed Chrome extension Keyword Surfer, you will see the volume of that keyword on the side of your search bar.
If you are seeing a volume of more than 500, then you came down in your search engine page, and with the help of Keyword Everywhere, you will see related keywords on your search page itself.
Let's consider our Keyword is 'chicken', so when I enter the keyword in the google search bar I get hundreds of related keyword suggestions by ' Keyword Everywhere'. And by doing little research I found a keyword i.e 'how to make chicken soft' which has a search volume of 480.
How to do keyword research manually
Now to apply the KGR rule, we have to write 'allintitle:' before the keyword and find out how many search results appear in SERP.
As you can see in the above picture, the number of search results is 84. The formula for KGR is 'Number of Search Result/ Search volume'.
And as per regular practice if the result is below 0.25 then the keyword is easy and you should go with it. But as per my practical experience, you should avoid the keyword for which the search result is greater than 65.
I am not saying that you cannot rank your blog on this keyword. But if your blog is new then a keyword will be a bit difficult but if your blog is 1 year or older then you can go with this keyword.
The lower the KGR value, the better. And if you have a new blog, then choose such keywords whose KGR value is very low so that you can easily rank your keywords quickly, due to which you will start getting some traffic from Google.
Second Method-Double Quote Result or DQR Technique
DQR or Double Quote Result Technique is one such technique that most SEO professionals either do not tell or do not know.
If you use the DQR technique with KGR then you will never need any keyword tool to know keyword difficulty. If the result of both matches, then you can be sure to include that keyword in your article.
So let's find out what is DQR and how to do keyword research manually with help of it.
Let's consider our keyword as 'chicken Hyderabadi green'. You can see it has a search volume of 320 and the search result is 17000000.
How to do keyword research manually For Free
Now let's first apply KGR technique to it and see what is the result and find out the keyword difficulty.
How to do keyword research manually For Free
You can see after applying the KGR technique the total number of results are 68 which is almost equal to 65, so you can go with this keyword.
So now let's apply the DQR technique, In DQR Technique, we search our keywords in the Google search bar inside two double-quotes. Due to this Google shows the same search result where the exact phrase matches.
How to do keyword research manually For Free
In the above image, you can see the total number of results that appeared when we searched our keyword inside the Double Quote is 67.
Note- Apply both the technique to your keyword and if the KGR result is under 65 and the DQR result is under 50 then you can definitely go with the keyword.
The Third Technique
When you do any keyword research and search that keyword in Google, then if you see any discussion forum in the first 5 results like Quora, Reddit, Yahoo Answers, Stack Overflow then that keyword is an easy keyword.
Google gives great importance to expertise and ranks those websites above which it is sure that that author is an expert in that topic. But in discussion forums like Quora, Reddit, or Yahoo Answers, any user can express his opinion and Google is not completely sure about it.
Google ranks these websites in the top five only when it does not get content from any authority website for that particular keyword.
Bonus Technique on how to do keyword research for free
Here is a bonus technique on how you can get easy to rank keywords for free and that too with search volume. In the below video I have described how to extract keywords from Quora and get millions of traffic in a few months.
Keyword Volume by Google keyword planner
It is not easy for anyone to forecast keyword volume. Because even Google does not know what the user is going to search for the next month. Or which keyword trend is going to go up or down. But yes you can do your keyword research by making the previous month's volume a criterion.
For this, you can use Google's free keyword research tools like Google Keyword Planner and Google Trends. Google keyword planner is a free keyword research tool that is made especially for advertisers but you can use it for SEO keyword research. The keywords explorer gives you a range when you are not running an ad campaign.
You can just create a free account on Google Ads (Formerly known as Google Adwords) and start using Keyword planner. If you are running ads on Google, then on Keyword Planner you will show the exact monthly search volume of keywords. But if you haven't run any ad campaigns, then Keyword Planner will show you the monthly search volume of keywords in a range.
Wrapping up how to do keyword research manually
So these were my three easy ways, with the help of which you can do keyword research manually in the same. I am using this technique for the last 3 years and I have got very good results.
Keyword research basics start with your assumption, experience, niche knowledge, and sometimes little risk.
Selecting the right keywords is the first step to reaching your target audience and bringing more users from organic search.
Even if you are using any keyword research tool, still I would tell you not to depend completely on that tool. And to check the difficulty of a keyword, try applying these three rules once on it.
You can read our other articles to know how to write an SEO-friendly article and how to do Keyword optimization for your blog post.
If you have any questions regarding how to do keyword research manually for free then you can comment below or write to me.