In this post, we will learn how to pin a comment on Instagram that will always stay on top no matter how many people comment on that post.
Instagram is a platform where you can do practically anything. Without a doubt, we are talking about a very complete and entertaining social network. For the same reason, today we will explain how to pin comments on Instagram so that they are always on top. Ideal for highlighting positive comments on your posts or it may be from someone whom you really admire.
Let me tell you a small thing, once a celebrity commented on my post. And I wanted that comment to always be on top so that every visitor could see it. But after that, so many comments came on that post that that comment got lost somewhere. Then I wondered if there is any way through which I can pin any particular comment and then I found this way.
It is not a secret that there are many tricks on Instagram, but you can be sure that posting comments is really easy. After you figure out how it's done, you'll be able to highlight the prettiest Instagram comments and you'll find that your posts will look much better.
Before I teach you how to pin any comment on Instagram, I want to tell you one thing this method or this facility Instagram gives only to the creator account i.e. the professional account and not to the private account.
How to pin a comment on Instagram from Android
Next, we will explain the process to pin the comments on Instagram of friends that you would like to show to the world. Just follow these simple steps: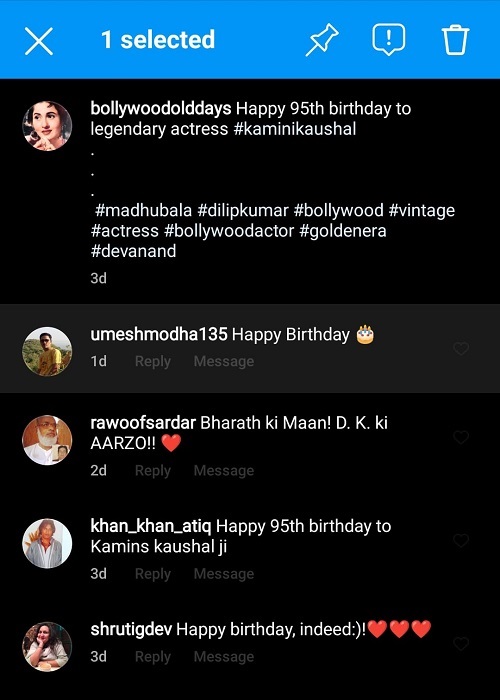 First, enter your Instagram account and click on a post of yours in which you want to pin a comment.
When you are in the post, press the option to see the comments so that you can see all the comments that have been written for that post.
Press your finger on the comment you want to pin and some options will appear at the top of the screen.
Tap the pushpin icon to highlight the comment within that post.
It is done! It's that easy to pin a comment on Instagram from any Android device. After you do this process, the comment you pinned will always be on top. If you want to unfix it, you must do the same thing again and that's it. As you have just seen, it is a really simple process.
How to pin a comment on Instagram from iOS
Doing this on iOS is just as easy as on Android, you just have to follow these steps:
Go to your Instagram account and touch a post in which you want to highlight a comment.
Click on the option to see comments to see them all.
Find the comment you want to pin, and keep your finger lightly pressed as you slide it to the left. Move it until the options menu appears, if you move it to the far left you will be deleting the comment.
When the options menu appears, press the pin icon to pin the comment and you're done.
Conclusion for how to pin a comment on Instagram
So this was how to pin a comment on Instagram. Easy, is not it?
Pinning Instagram comments is easy on both Android and iOS. When you locate the comment you want to highlight, in a matter of seconds you can pin it so that it always appears on top. This way, people who come to your publication will be able to see the comments that you like the most first.
Read More about Instagram-