In this digital world, you might already be aware of the worth of content. If your website doesn't have content, it won't be able to compete with its competitors on search engine rankings. From time to time, Google has rolled out several updates to its ranking algorithms. Among these updates, this search engine giant has discouraged the usage of duplicated content and also shed light on its harmful effects. You cannot use the same content over multiple pages of your site, as each page is perceived as a sole entity by Google, and it has to gain rank on SERP individually.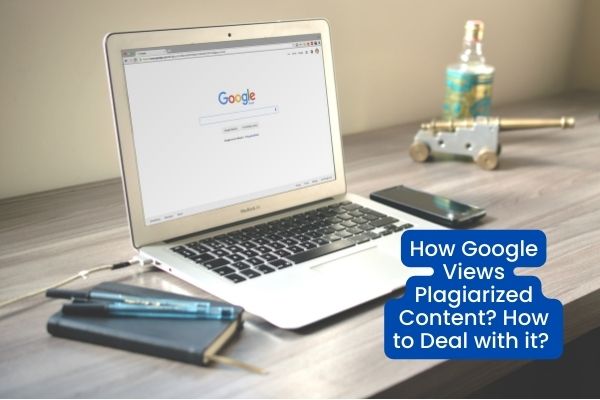 Several elements are involved in the creation of content that is capable of generating fruitful results. These elements involve consistency, engagement, resourcefulness, and uniqueness. If any of these traits go missing from your content, it won't be able to reap the results that you expect from it. Among all the things, plagiarism is considered quite dangerous for your presence over the web. It is often said that duplicated content leads to several disasters for a website in terms of its position in Google. If you want to know how Google views plagiarized content, keep reading. We will also let you know what the myths that you must not worry about are and how you can deal with this problem of plagiarism. So let's get started without any further ado!
Read- How to use Google Search Console for Keyword Research In 2022
How Google Views Plagiarized Content?
Plagiarized content, in easy words, is content that appears on more than one location or URLs over the web. Google also views plagiarized content in a similar way, and it asks webmasters to work on avoiding it. You might be wondering whether Google sees a few similar lines of text as plagiarized or the entire text on a web page copied from another page. Well, as per the guidelines of Google, duplicated or plagiarized content is referred to as the substantive chunks of text that completely match the content of other domain(s) in the same language. However, there are no hard and fast sanctions applied by Google over the usage of duplicated content in several instances. You can read the myths roaming about plagiarized content below to understand what you need and what you do not need to worry about.
Myths About Plagiarized Content
You might have read or heard several times that duplicate content hurts your search engine ranking. It's a myth, as it doesn't have as much of an impact on the search rankings as it has been thought. While indexing a page, Google considers a lot of factors. Among these factors, Google gives more value to the content that is unique and doesn't appear anywhere else on the web. However, this fact doesn't mean that duplicated content will not get indexed or decline your rankings on SERP.
Another widespread myth related to duplicated content is that it can make you face penalties from Google's end. It's not true, as Google just penalizes those pages or sites that are using plagiarized content to manipulate search engine rankings. For a single entered query, you'll get several similar results appearing on the result pages. Many of these pages contain duplicated content, but they aren't meant to be deceptive. If any page is plagiarizing text on purpose and desires to deceive Google, only in that case penalties will come their way.
How to Deal with Plagiarized Content?
Plagiarism occurs for a number of reasons. You might have created a new URL or page for an existing product and updated it with the same content. Even though your intentions aren't wrong, it might affect your search engine rankings. In this scenario, you can opt to use 301 redirects that will direct the traffic from an old URL to a new one. For the detection of plagiarized content, you can move towards the use of technology.
Dealing with plagiarized content has become easier since the inception of online tools like plagiarism checkers. You can check for plagiarism in any kind of text and identify the instances of plagiarism existing in your text with a plagiarism checker free. If your text contains duplicated chunks, this tool will identify them and also let you know the sources from where it has been plagiarized. Once you have come across plagiarized content through a plagiarism detector, you need to make the plagiarized sentences unique to get rid of it to save yourself from its negative consequences. You can rewrite those sentences or paraphrase using paraphrasing tools.
Final Words
The easy availability of plagiarism checkers has made it easier for webmasters to deal with plagiarized content. If you want to stand above the competition, you need to come up with genuine content, as Google admires information that isn't already available over the web.