Here are some Whatsapp new updates In April 2022 which will be launched and make your experience more fun. You may have to update the Whatsapp to the newest version to enjoy the features.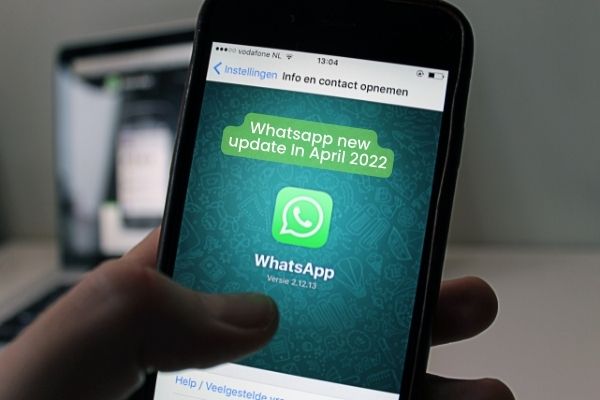 Whatsapp new update about file size and group chat
WhatsApp, which is owned by Meta, announced on Thursday that it will bring new features, including the ability to connect with up to 32 individuals in a group voice chat and share files up to 2GB in size.
At the moment, only eight persons can be joined to a group phone call using the mobile app, and the size of any file transmitted between users should not exceed 1 GB.
The administrator of a chat group will also be able to delete messages at any moment. According to a corporate spokeswoman, the erased communication would not be visible to any group members. "We created WhatsApp communities to make it much easier to organize and access content in all of your group chats." You'll be able to combine different groups into one community – for example, in addition to specific groups for different classrooms, you could have one general community for parents at a school with a single location for announcements and admin tools."
"We're also bringing new capabilities to WhatsApp groups, including as reactions, massive file sharing, and larger group calls." "Mark Zuckerberg, CEO of Meta Platforms, the company that owns WhatsApp, stated in a blog post. According to a blog post, while other applications are establishing chats for hundreds of thousands of users, WhatsApp is focusing on supporting groups that are a part of people's everyday life.
"With an all-new design, we'll introduce one-tap voice calling for up to 32 individuals." "According to the blog post. Among the new features that will be gradually carried out, WhatsApp will include the ability to create communities in which all groups representing a collection of communities such as school, residential society, and friends from various locations can be arranged.
"Communities will also have strong new admin capabilities, such as announcement messages delivered to everyone and control over which groups can be included." We believe that communities will make it easier for a school principal to gather all of the parents of the school to share must-read updates and form groups regarding specific subjects, extracurricular activities, or volunteer needs "According to the article.
Whatsapp new update hide last seen
Today, April 18, 2022, WhatsApp began spreading out its Emoji reaction to messages for all standard versions. The Meta-backed instant chat company is excited to add another long-overdue feature. WhatsApp has added an option in the latest iOS app update that allows users to exclude particular individuals from viewing their 'Last Seen' status.
This feature reveals when someone last checked WhatsApp, allowing one to determine if a receiver has purposefully decided not to read the message or read with read receipts turned off and not reacted. Turning off the last seen status is a privacy feature that allows your contacts to know when you last used the app.
WhatsApp has long allowed you to limit who sees your status to only your contacts. You can also disable the function entirely, but in that case, you won't be able to see the last seen status of your contacts, nor will you be able to see the read status with blue ticks. Users will be able to prohibit specific individuals from seeing the information with the new feature update.
WhatsApp iOS beta version 22.9.0.70, according to WABetaInfo, adds a new "My Contacts Except…" option under the Last Seen portion of the app's privacy settings.
Read- How to add someone on Whatsapp without phone number
To utilize the function, go to settings > privacy > Last seen and then My Contact except and enter the names of the people you want to hide your last seen from.
According to the tracking website, WhatsApp is also adopting more detailed privacy controls for both profile photographs and about sections. Meanwhile, with the "last seen except…' function currently in beta testing on both Android and iOS, it won't be long until it's made available to everyone on WhatsApp.