Telegram Premium is now available. Telegram's new membership service, which has over 700 million monthly active users, allows users to unlock unique additional features on the chat app.
In a blog post announcing the introduction of Telegram Premium, the firm stated that the new premium tier "will allow us to offer all the resource-heavy features users have requested over the years while keeping free access" to the messaging service.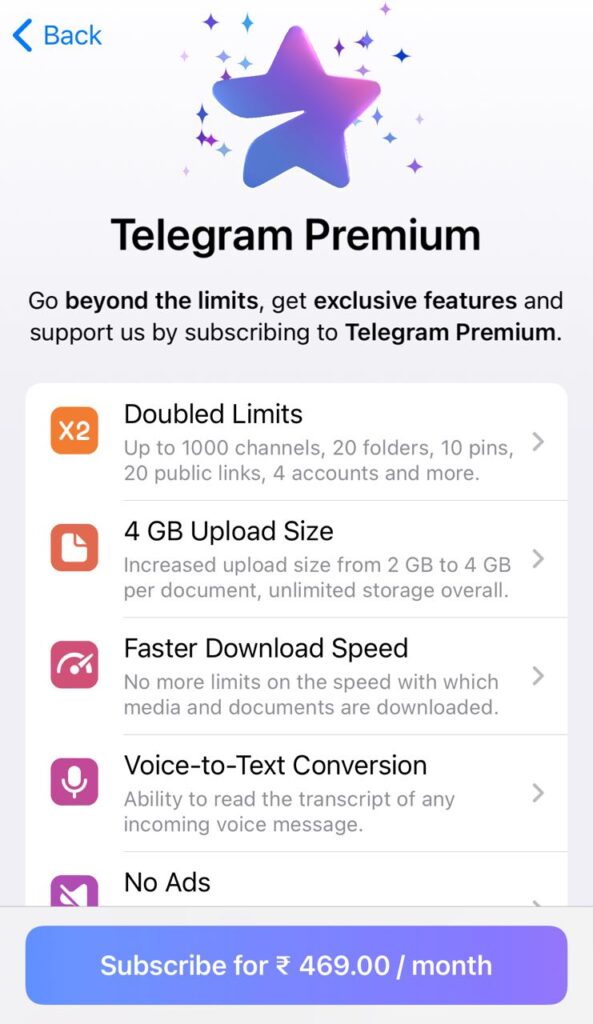 So, what's new with Telegram Premium, and how do you get your hands on it? Everything you need to know is right here.
Read-How to make Telegram stickers Easily in 2022
How to get Telegram Premium
To get the new Telegram Premium subscription, you must download the most recent version of the app. We were able to locate the app's most recent version 8.8 in the iOS App Store. It now has a Telegram Premium subscription option.
However, it appears that the update has not yet reached Android users. The Telegram client on the Play Store is still at version 8.7.4, so Android users may have to wait a little longer to subscribe to Telegram Premium.
What is the price of Telegram Premium?
Telegram Premium will cost somewhere between $6. The rates were not announced in the company's official blog post, but we verified the app in India and the membership costs Rs 469 on an iPhone.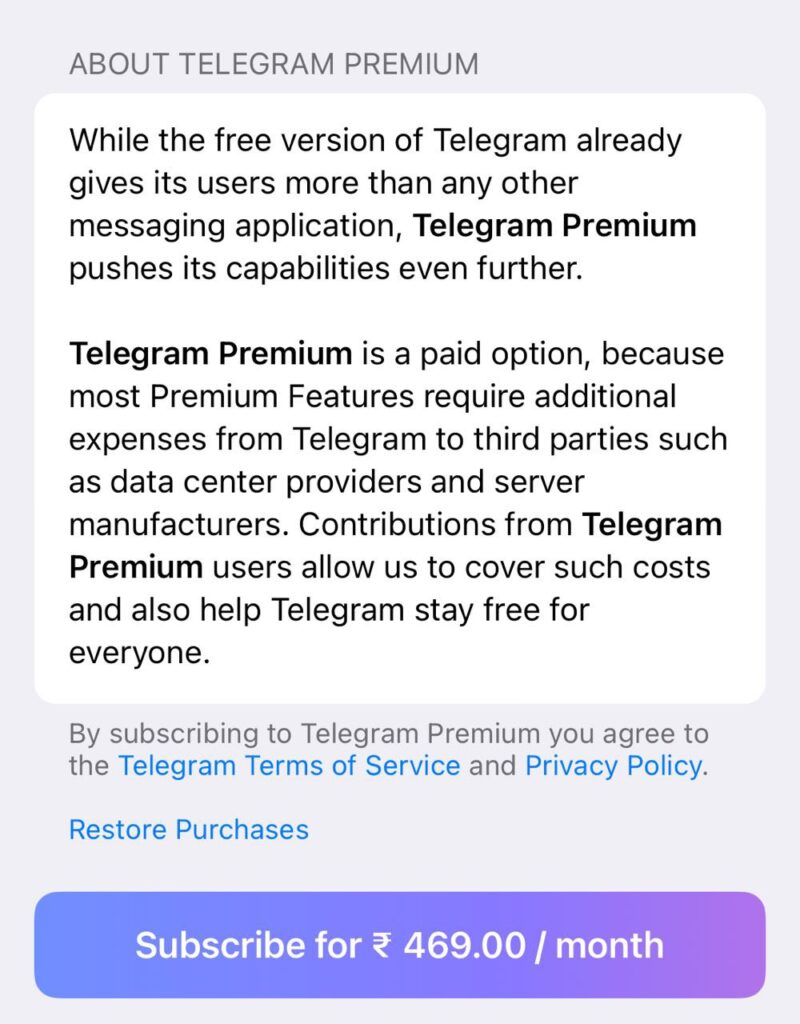 There are a slew of new features available to consumers. These include double limits, heavier uploads, faster downloads, no advertisements, and more. Non-paid users will also be able to view stickers issued by premium users and tap to boost counters on premium reactions. The following is a comprehensive list of all the additional Telegram Premium features.
Uploads of 4GB
Users who pay can upload and transmit files up to 4GB in size. Meanwhile, users of Telegram's standard free version will be limited to 2GB uploads. Users on the free tier, on the other hand, can download 4GB files provided by Telegram Premium users.
Increase in download speed
According to Telegram, premium users will be able to download media and other things at the fastest feasible pace. "You can access everything in your unlimited cloud storage as fast as your network can keep up," according to the company's blog post.
More channels to subscribe
Telegram Premium subscribers get access to increased limits on practically everything in the service. They can subscribe to up to 1,000 channels, create up to 20 chat folders with up to 200 talks each, add a fourth account to any Telegram app, bookmark up to 10 chats in the main list, and store up to ten favourite stickers. That's double what free Telegram users get.
Voice-to-Text
When consumers are unable to listen to voice messages out loud, the new premium service will allow them to convert them to text. Users will also be able to rate transcriptions to help them improve.
Additional stickers and reactions
Premium users will have access to additional stickers with full-screen animations as well as 10 new emojis. However, these will be visible to all users. This means that a Telegram Free user will be able to see these unique stickers delivered by a Telegram Premium user.
Chat administration
Subscribers now have access to new chat management features. Subscribers can modify their default chat folder so that the programme always opens in a certain folder. Subscribers can also select an option in Privacy and Security to archive and silence new chats automatically.
Premium badges and animated profile photographs
Telegram Premium users can upload animated profile photographs that will be shown to all users. In addition, they will receive a special blue star premium emblem next to their name in the chat list, conversation headers, and group member lists.
App icons have been redesigned
Three new icons are a tiny but welcome addition. Subscribers can add the new premium star, night sky, or turbo-plane icons to their Home Screen to match their background.
No advertisements
Telegram displays Sponsored Messages on large, public channels in several countries. According to the site, these advertisements help Telegram's operational costs but will no longer appear for Telegram Premium subscribers.