Want to make custom stickers for Telegram then we will describe how to make telegram stickers.
Stickers are small illustrations that convey an emotion or action in messages through animation. They are entertaining and make people laugh. Stickers are the latest messaging trend, and almost all messaging apps now support them.
Telegram provides a variety of sticker packs via various channels, where you can download and install stickers. Once installed, the sticker packs are integrated into your Telegram app and appear as options alongside the emojis. You can then add them to messages and send them in any way you want.
Furthermore, with the help of an in-app sticker bot, Telegram allows you to create your own 'Telegram Sticker Packs.' Let's look at how you can make your own stickers and distribute them to your friends and family.
How to make telegram stickers
Telegram sticker creation requirements
To begin, you must have a Telegram account; if you do not already have one, create one. Then you'll need a PNG image or images. The image should have a transparent background and be 512 x 512 pixels in size.
Getting the image ready for stickers
The first step in making really cool stickers is to remove the image's background. To remove the background, use the eraser tool in your preferred image editing application or online tools such as remove.bg.
The original image must then be resized/cropped to fit a 512 x 512 pixel square. Once completed, save the image in a size less than 512 KB, and if necessary, compress it.
How to make Telegram stickers using the Telegram bot
Open the Telegram app and search for '@stickers.' Select the first channel named 'Sticker' from the results. This is the Sticker Bot, which assists you in creating, editing, and deleting stickers.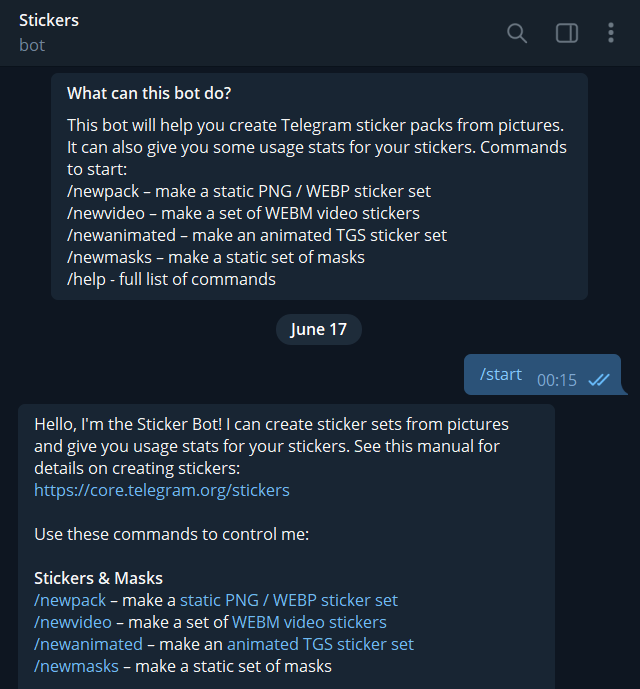 To begin the conversation, click 'Start.' It provides a list of commands for controlling the bot. You can type the command or simply tap on any command to get a response.
Now, tap '/newpack' to create a new package, and it will prompt you for a name. You must give your sticker packs a name. Anyone who sees your stickers will see this name. For example, we've given the package the name 'Mynew.'

After I enter a name for the package, the bot will ask for an image file in PNG or WEBP format with a transparent layer that fits in a 512512 square.
Tap the 'attach' icon and select images from your gallery to add. When uploading images, it is best to use the Desktop Telegram app.
The bot will then ask you to send the emoji that best represents your sticker, which will be linked to it. Emoji definitions can be found on websites such as that emoji and Emojipedia.
You can add multiple emojis, but only one or two are recommended. When you use that emoji in a conversation in the future, you will be prompted to send the tag associated with it.
After you send the emoji, you must publish the sticker pack before you can use it. To post the sticker, use the '/post' command.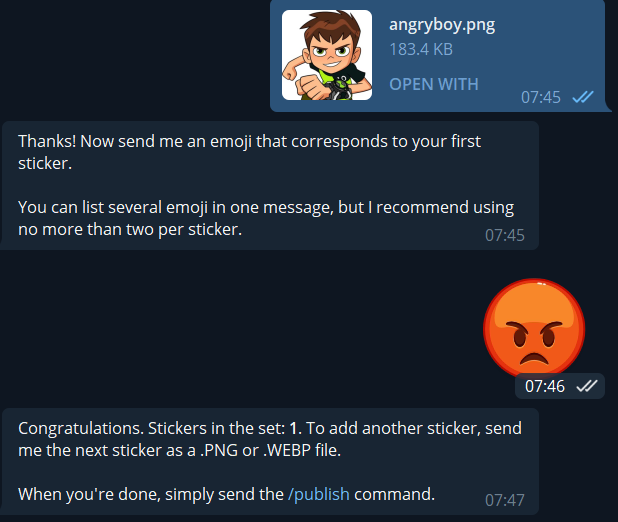 You need to send '/publish' command to publish the sticker. You will now be asked to upload a 100×100 sized image to serve as the icon for your sticker pack. You can either add it or skip it, in which case the bot will use the first package tag as its icon.

It will then prompt you to enter a short package name, which the bot will use to generate a share link.
For example, we named the package 'Angryman.' After that, you will receive an email with a link indicating that the package has been published. Then, using that link, you can add the sticker pack to your account and share it with whoever you want.
You can cancel your process at any time by using the '/cancel' command. Then you can write and send whatever you want, and the opening message with commands will always appear. Using the provided commands, you can further customise your pack or create, edit, and delete stickers.
That's it. Anyone who has your pack's link can now add your stickers to their collection and enjoy them.
Wrapping up
So this was the easy way to create custom stickers in Telegram. If you have any doubts regarding how to make Telegram stickers then you can comment below.
More about Telegram