Today, we will discuss how to send Whatsapp message to email address so that you never lose the important messages that you want to store for a lifetime.
Whatsapp is one the most used messaging app in the world right now. It had active monthly users of more than 2000 Million in March 2020. The next big messaging app and WhatsApp rival Signal has 40 million monthly active users.
Why to send WhatsApp messages to Email address
There are many issues storing your all-important messages in mobile phone like it can eat your disk space and you always need more disk space in your mobile so that your phone function smoothly without any hassle or lag. Whatsapp by default stores all the data in your Phone memory and there is no option of choosing the default location as the memory card.
And if you are using an iPhone then the extended memory is out of the syllabus for you.
Though in iPhone, you can backup your WhatsApp data in the cloud with the increased number of media files we receive now, and with the size, the cloud storage soon runs out. So apple will always ask you to buy more spaces on the iCloud, which is too costly.
If your phone ever gets lost and there are some messages or media files on your WhatsApp that you do not want anyone else to see, either you have to delete it, or you will have to store it somewhere else. So even from that security perspective, it is not right to keep all your messages and media files on your WhatsApp.
If for some reason, you delete your WhatsApp account, all your messages and media files will also be deleted. When you restore your WhatsApp account or open a new one, you will never get the message that was in your old account. At such a time, you can save your important messages or messages that are very personal to you in your email.
Lets learn How to send WhatsApp message to Email address
In Android
To send your WhatsApp messages to your email, go to the particular chat you want to send the messages to email. Then, click the three-dot button on the right-hand side.

It will open options like view contacts, Media, links and docs, Search, Mute notification, Wallpaper and More. Click the more button and it will open more options.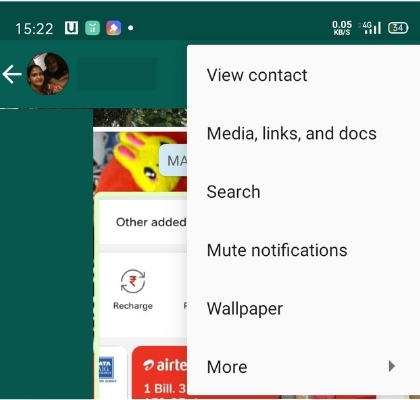 Now click the export chat option to send a WhatsApp message to Email address. In the next window, it will ask you to choose between Without Media and Include Media. you can choose either of the options depending on the media file importance. if the media files in the chat are important for you and you want to preserve them then you can go with media or else you can choose Without Media. Without media option will only export the chat texts in .txt format.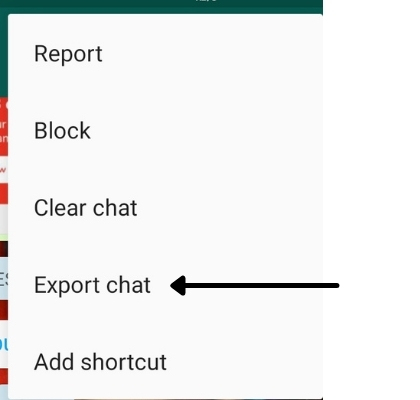 Now you can find many options like email, WhatsApp, Google Drive, etc. You can choose any option but choose the email option. You will be prompted to the default Gmail id that is attached to your mobile.
In iPhone
To send WhatsApp message to Email address follow these simple steps.
First, open the WhatsApp on your iPhone, then open the message screen of the user whose message you want to send to your email.
You will not see any option on iPhone like Android. For this, you have to click on that username.
After tapping, you have to come down completely and you will see the option of export chat. You have to tap on that option again and you will see two options, Without Media and Attached Media.
If you want to attach media with your message, click on the Attach Media option, otherwise select Without Media.
As soon as you choose one of the two options, you will come across many more options to send your message, such as messages, mail, WhatsApp, Gmail, chrome, Telegram, messenger etc. From there, you select your email.
As soon as you select your email, this file will be automatically attached to your email. Now all you have to do is to enter the email ID where you want to send your email.
You can enter your other email ID, or you can also enter your own email ID. After entering the email id, click your send button, this message will be delivered to your inbox.
Wrapping Up How to send WhatsApp message to Email address
These are some simple steps to send WhatsApp messages to Email addresses and store them for a lifetime without the fear of losing your valuable chats or media which you will hate to lose. If you have any comments or suggestions then you can contact us or comment below.
Also Read- How to get Grammarly Pro for free