Have you started regretting choosing Instagram for promotions just because your Instagram promotion is not approved? You don't have to. There may be something that you might be doing wrong. We will discuss all reasons and solutions.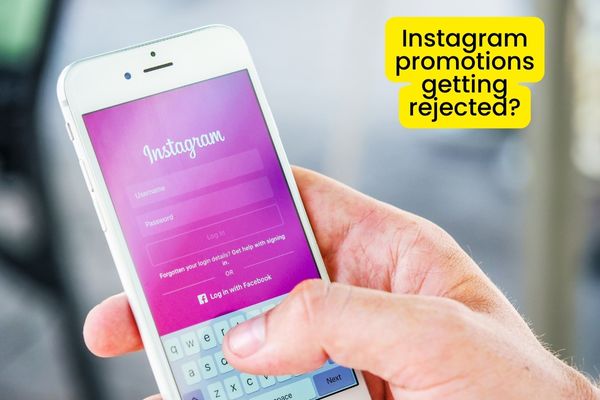 Instagram is a beautiful platform to advertise and globalize something in the form of their promotions. It is a great reach and gives good profits, but sometimes due to some technical mishandlings, your Instagram promotion might not seem to be approved.
There may be serval reasons for your ad not being out on the worldly platform, Instagram. Let us examine the prominent reasons and their solutions. Initially, after your ad is set up, it will be analyzed carefully before posting to the world by the regulations abiding by the advertising-related policies set by Facebook.
Most of the time, if your ad has a button to lead to a landing page or an action tool that redirects the user to some other function or page when clicked and that function or page is not working well or meeting the promotion standards, your ad will be put off.
If the above reason is not correct, then don't worry. We have a few more reasons that might have lead to make your ads seem disapproved.
Also read-
Reasons and solutions for Instagram Promotion not approved
Verify the following reasons in the order listed below. Go to the third only if the first and second do not work and if the third also does not work, then go for the fourth. These all steps will solve your issue if your Instagram promotion is not getting approved.
Wrong Setup
The most fundamental error can be the wrong setup. Check the setting of your account if your Instagram account is set private or public and not a business account. You need an exclusive business Instagram account without which your ad will not be put up.
Solution
Create a business account or change your existing account to business. Also, see that you remain the admin of the related Facebook page if you have it.
Violation of policies
Now you have to satisfy the guidelines of Instagram and Facebook. If your ads violate any of the two sets of guidelines, your ad will be put off from promotions. The majority of these guidelines are set to protect the safety and comfort of the users.
If you violate their rules, the penalty may range from banning your ad to banning your account, depending on the intensity of the guideline you have violated.
Their guidelines include the following :
Inserting confidential information that is considered private by anybody else is strictly prohibited. Depending on the intensity, you can be banned by Instagram permanently.
You should apply and get written consent from Instagram if you want to use a domain name or a website; otherwise, they will not process your ad.
If you are found guilty of exchanging your account or username of anything related to your account regarding money, you can also be put off.
If your content is against any service and intentionally targets an active service, it is also against their policies.
If you are account is caught guilty for functioning against the policies of Instagram or supporting people who are working against these policies and guidelines. Also, Instagram might take a call against your page or account.
Your content should not hurt or defame anybody; otherwise, it is a legal offensive.
Solution
Simple, make ads that do not violate any of the guidelines, and be very cautious and conscious with your account.
Formatting errors
There are a set of formatting guidelines for the ad set. If you fail to adhere to them, you might face this difficulty. Facebook does not approve ads that do not match the required format.
There are different formats like collection ads, video ads, photo ads, story ads, carousel ads, etc. Your ads should match any of the existing formats and be easy to reach. If your ad does not abide by the format, then that might look disapproved.
Solution
Check the format guidelines correctly, and then create an ad.
Wrong audience
Instagram is a vast platform. It has so many types of audiences, and whom did you select? If you deliver to the wrong audience, you waste money. Instagram will not stop putting your ad out for this reason, but it publishes your ad on a limited scale since the reach is not significant.
The targeting should get you good reach and excellent business and should not go to those who don't need them or those who will not pay attention to them. It is essential that these promotions reach the right person at the right time.
Solution
Keep good targets. Post in your ads concerning the demographics, locations, interests of your audience, etc. You can use the automated feature on Instagram to set your targeting automatically, and it will reach a good audience easily.
Content issues
If there are content issues with your ad, that is a more significant reason for your ad not being displayed as approved.
If the pictures you chose are of low resolution, if your content in the ad is not very engaging, your ad will automatically get the back seat. So your ad must be free from content issues.
Solution
Work well on your ads. Keep the check on your content and see that the engagement bar is kept high.
Compatibility:
Now that Instagram is not restricted to laptops, pc, or mobile, your ad should also be compatible with all the devices that Instagram supports and should be openable and accessible on these different screen sizes.
The design of your ads should suit all the devices and screen sizes.
Solution
Make your ad in such a way that their size will not be a problem on any platform.
So the above could be the prominent reasons for your ad seeming not approved.
What to do to get your ad processed?
If you think your ad is not processed due to any reason, you can correct it and send a request to get it processed. If your ad is put on hold or put off for any reason, you will receive an email stating what happened with your ad.
So you have to edit that accordingly. In case you don't get an email, you can raise a query. Once you edit your ad, you will have to request them for appeal. You must fill the facebook form and wait.
Wrapping Up Is your Instagram promotion not approved
See that you will lose a platform like Instagram due to any errors. Don't let the platform prevent your promotions from reaching people. Edit your ads and get set go.
Is your Instagram promotion not approved after following all the steps? Then comment below with the reason Instagram has given you and we will try to find the solution.