We discuss the best android app for Audio books for education and amusement. when there are the best Audiobooks available on your Android devices, then you will never feel the need for a good book.
These Audiobooks permit you to listen to books ranging from Classics to Best-Sellers. For this, you only need an Android device and a set of headphones or TWS (optional: for a better experience)
Audiobooks are available in many forms. In this article, we will be going to enlist some audiobooks that bring back to the world of literature, especially classics in the form of audio.
Therefore, when you try out one of these top audiobooks apps, prepare to unwind with a nice book.
Also Read- 20+ Daily Paytm Cash Earning Websites To Earn Money
1. Audible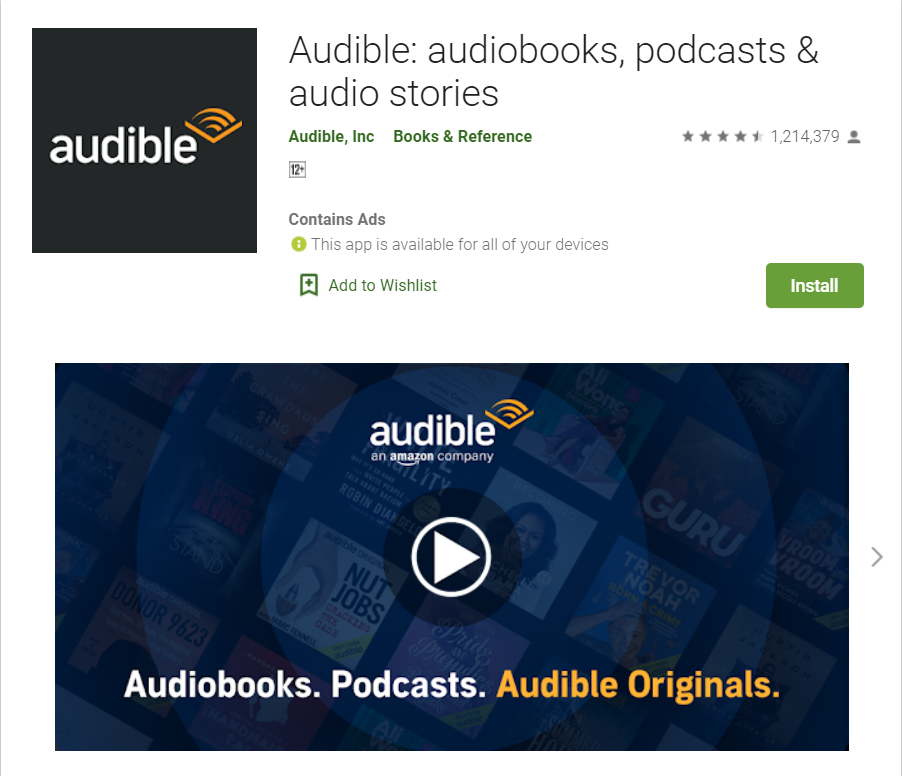 With over 400,000+ titles in its stock, Audible remains the undisputed leader among the top audiobooks applications especially now (which it is ruled by Amazon).
With chapter navigation, bookmarks, sleep mode, adjustable playback speed, and multifunction integration for background playback and downloads, Audible's audiobook player provides strong playback functionality.
The combination of Audible with Amazon has offered several benefits. When starting an Audible Premium Plus trial, Amazon Prime members who sign up at Audible.com receive two free credits. Whispersync, a feature of Amazon, allows customers to choose between audiobooks and text flawlessly. You can even have Amazon's Alexa fetch up your Audible audiobooks to read on an Echo Dot, Echo, Tap, etc.
Pricing: (Android: 17.95 Bucks a Month)
2. Audiobooks.com

Audiobooks.com is a cloud-based version provided by RB Audiobooks. It proves to be a great contestant to audible as it is one of the best audiobook apps for Android listeners.
In Audiobooks.com, You are given a massive library of almost 200,000 audiobooks. You can either listen to it online or download it and then listen offline.
Among the features of the Audio Books app, are customizable playback speed, automated bookmarking, and a sleep timer. This app additionally supports cross-device synchronization, allowing listeners to seamlessly switch between their smartphone, laptop/computer, or tablet easily.
Pricing: (Android: 14.95 Bucks a month)
3. Realm
Realm, the finest audiobook software that was formerly known as Serial Box, has a new name, but the same allure to all those who enjoy listening to a compelling story. Realm delivers small-sized portions of novels that are suitable for your commute or break time, allowing listeners to experience shorter, episodic material.
The realm has a variety of genres, ranging from fantasy to adventure and sci-fi. You can listen to various Ebooks for free, but subscribing for an unlimited membership removes distractive advertisements, gives you access to special concessions, and allows you to listen or read. A yearly membership costs around 2.49 bucks a month.
Pricing: (Android: Free)
4. Google Play Books
Google Play Books also contain features that are needed in a good audiobook app. It allows you to listen to your purchased audiobooks without charging you a penny. It enables their users to continue from where they left off. Google Play Books offer cross-device synchronization.
It also permits you to move ahead from the timeline, skip the chapters, change playback speed, and also offers a sleep timer.
As mentioned, all the above audiobook apps are paid, while Google Play Books don't ask for any monthly subscription fees from its users. They allow previewing their audiobooks and then purchasing them from the Google Play Books store.
Pricing: (Android: Free)
5. Kobo Books
Kobo Books provides a wide assortment of Ebooks and Audiobooks through its online platform and apps, despite not having the same brand recognition as Amazon in the US Ebooks and audiobooks industry.
With a timeline scrubber panel, time skip options, chapter navigation, playback performance claims, and a snooze timer, Kobo's audiobook player covers all the fundamentals an Audio Book requires.
In addition, the Kobo app has a multi-platform synchronization and a customized Ebook reader option. Signing up for a 5 bucks discount offer on their first Ebook purchase is given to the new customers.
Pricing: (Android: Free)
6. Smart AudioBook Player
Smart AudioBook Player Eid becoming a popular choice among Android users nowadays. It is a DRM-free audiobook that you were looking for till now. It comes with a good amount of features such as bookmarks, audio equalizer, variable playback speed feature, and some basic features like snooze timer and controlling the widgets from your home screen, lock screen, and notification panel. The application offers a generous 30-day free trial prior to asking for 1.99 bucks as an unlocking fee.
Pricing: (Android: 1.99 Bucks)
7. Listen Audiobook Player
Listen Audiobook Player, formerly known as Akimbo, is another of the finest audiobook applications for DRM-free titles on Android. Listen is an ad-free and IAP-free player with an equalizer, a sleep timer, bookmarks, inbuilt chapter support, variable playing speed, lock screen controls, and widgets.
Some of the advanced features of this app include that you can change or skip time, UI color, your headphone shortcut, multi-device synchronization, and many more.
Pricing: (Android: 1.99 Bucks)
8. Voice Audiobook Player
If you don't want to spend a single penny on an Android App for Audio Books, then Voice Audiobook Player is the best Audio Book for you to consider. It has a clean, minimalistic user interface that offers handy playback functions while not charging you a cent.
Voice Audiobook Player's library management is simple, straightforward, and folder-based, with playback capabilities including variable playback speed, bookmarks, along with a sleep timer. It is quite simple as compared to the other applications in our list of the best audiobook apps, but you can't disagree to consider this audiobook app at this price segment.
Pricing: (Android: Free)
If you are a reader, you got to have all of these fantastic audiobook applications for Android. You should have at least one of these applications on your Android devices since they can help you with your reading habits when you are on the move.
Those who like to listen to audiobooks might also benefit from these apps. Every app has some additional amazing features in its arsenal, and it is entirely up to the user to decide which features he wants to see in the application.
Wrapping Best Android App for Audio Books
So these are the 8 best Android apps for audio books. If you have any questions or suggestions then you can comment below.