Facebook's Messenger platform now includes the Remove for Everyone feature or delete messenger chat from both sides, which was introduced by the social networking site.
Any message can be deleted after it has been sent using this feature. In our previous post, we have discussed how to delete WhatsApp messages after the time limit.
This feature was initially introduced in countries such as Colombia, Bolivia, Poland, and Lithuania. This feature will be available to Android and iOS users. Users will be given a time limit of 10 minutes in this case. Users will be able to delete the message within this time limit. We'll show you how to use this feature in this section.
Learn how to delete messenger chat from both sides
Users must first download the Messenger app in order to do so. You also can do this on your PC.
After that, go to the chat window and select the chat whose message you want to delete.
Then, select the message that you want to delete. You must tap and hold the message to accomplish this.
You must now select the Remove option.
Following that, a message will appear with the words "Delete for Everyone" and "Delete for You."
You must then select Delete for Everyone.
The message will be deleted as a result of this action. However, if the time it took to send the message exceeds 10 minutes, you will be unable to delete it.
On PC
On PC, click the three dots beside every messege and then select 'Remove'.
In the next page you can find two options 'Unsend for everyone' and 'Remove for you'.
Select the first option and click on 'Remove' button.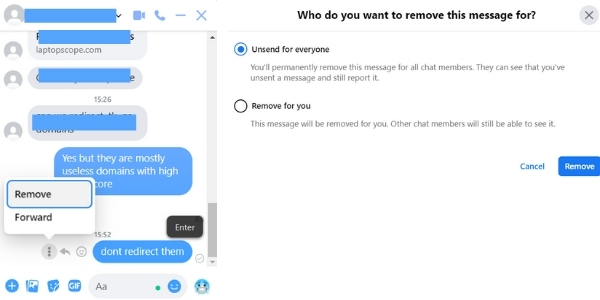 How To Read Delete Message On Messanger
If someone has deleted the message they have sent you and you want to recover those messages then follow these steps to recover deleted messenger chats.
Open the Facebook app on your mobile.
Click on your profile image top right corner.
Then select 'Privacy shortcuts'.
Scroll a little down and press 'Access your Information'.
on the next page scroll down and press 'Download your information'.
By default all options are selected, deselect all and select only 'Messages'.
Now scroll down to the bottom and press the 'Create File' button.
It will take some time and will create an HTML file. When you try to open it will open in a new browser and you have to provide your user ID and password.
Boom, now you have all the chats from start to end. You can also select custom date range when trying to donload.
Wrapping delete messenger chat from both sides
Previously, WhatsApp updated the Delete for Everyone feature.
The time it takes to delete WhatsApp messages has been increased to 13 hours, 8 minutes, and 16 seconds. According to WABetaInfo, if a user deletes a message in this new update, a revoke request will be sent to the recipient. If he does not approve it within 13 hours, 8 minutes, and 16 seconds, the message will not be deleted.