How do I use Snapchat on my computer or Can you use Snapchat on your computer?
These days, Snapchat is a very popular social network. If you are unfamiliar with it, we will show you how to register for free and have fun creating effects and using its various filters to make your photos more appealing. We invite you to try it out and enjoy it with your friends. If you like it after trying it, you'll probably want to use Snapchat on your PC, so we'll show you how to do that today.
Read- How to add music to your snapshots or stories on Snapchat
How to use Snapchat on your computer?
Installing Snapchat on your PC is very simple; simply follow the steps below:
To begin, you'll need an emulator; if you can't afford one, you can get one for free from Google's browser or another browser of your choice.
Look for the official page of the MEMU Play or BlueStacks emulator and click on download, then on execute, accept all the conditions, and tell it where you want to install the program (it could be on Local Disk C); select English or another language, and finally, click on install.
After installing the emulator, restart your computer to improve the performance and speed of the emulator.Then, if you don't already have one, create one and sign in to it.
Search for the Snapchat app in the Google Store or Google Play, and then download it.
Then, click the open button, and you're done; however, if you want, you can restart your computer to ensure that it works properly; you'll notice that the interface is identical to that of your cell phone.
How do you use it on your computer?
If you previously installed this application on your mobile device, you will have no trouble familiarizing yourself with it on the PC, because most of the tools can also be operated from there, with some exceptions as we will explain later; don't worry, the emulator will work the same way.
Because we recognize that you may be new to this world, we will assist you to step by step, and we invite you to do the following:
When you open the Snapchat app, create an account and enter a username and password.
Then, press the login button.
Finally, you will be in the application, where you will have access to the following functions: chats between your contacts or friends, reply to messages, or view your friends' photos or selfies with filters, in addition to viewing your contacts' history and other images.
How do you get Snapchat filters for PC?
You may be wondering how I can add or use filters on Snapchat. Installing Snapchat on the PC, on the other hand, means you won't be able to use some of its features, such as taking photos and making videos, as you would on your phone, because the PC application includes that limitation.
Various Snapchat filters
However, the technology always adapts to your preferences and provides solutions; thus, we will show you some recommendations for using photo filters in Snapchat for PC:
To use the camera, take photos, and selfies from your PC (you must have a webcam, of course), you can download some free applications from the Google Play store.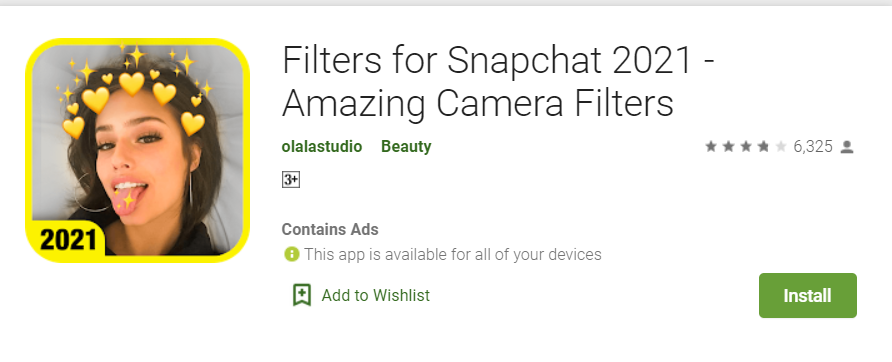 Once installed, you'll have access to thousands of selfie and image filters.
To save your photos before sending them, first activate the home screen, then tap the gear icon in the upper right corner of the screen to open the settings menu, then click on memories, then save to, and finally only to the reel.
If you have lost your phone, it has been damaged, or you do not have enough memory, you will no longer be inconvenienced because you now understand how to download and use Snapchat on your computer.
If you are unconvinced by this social network, you can easily delete or cancel your Snapchat account. We hope you have a wonderful time with your friends from the comfort of your computer.