In this post, we will discuss how to go viral on Twitter without followers and its benefits. Going viral on Twitter has many perks attached to it like you can reach the desired person or group to solve your issue. Twitter unlike other Social media platforms is a two-way communication platform.
So how to make a tweet go viral if you don't have enough followers and your account is relatively new.
Twitter is one of the biggest social media platforms, and currently, it has an approximately 429.79 Million user base around the world, which is estimated to grow to 497.48 million by 2025.
There are many benefits of making your tweet viral on Twitter, such as you can get your point where you want to reach, you can drive huge traffic to your website in no time without much effort, you can add people for any campaign, talk directly to a service provider or product provider, You will get a chance to communicate with your favorite celebrity or politician.
Read: How To Get 1K Followers on Instagram with Proof
How To Go Viral On Twitter
If your account is new then obviously you will not have many followers. And in such a case, the chance of your Twitter going viral becomes a little less. But if you follow all these steps correctly, then you can not only make your tweet viral but also increase your followers in a few months.
First, let us understand how Twitter is different from Facebook and Instagram. On Facebook or Instagram, you will sometimes see very old posts, say 10 days, 15 days, or 1 month old. But you will not see such tweets on Twitter that are much older.
Tweets have a limited active time, and in most cases, it is about 10 minutes unless you are tweeting from a very famous account or a verified account. So let me tell you what should you do to use these 10 minutes so wisely that it gives you maximum result.
Be Unique
Many people copy messages from WhatsApp or Facebook and put them on Twitter, thinking they will go viral. But such copied content rarely goes viral because most people have read or seen such contents on the web. So bring uniqueness to your content. This will help you a lot in your tweets going viral.
Choose 20 Hashtags That Are Related To Your Content and search them on Twitter search. You will find a lot of content that has already gone viral and is related to your content. You may also find some discussion threads. Start getting involved there and give your valuable input. Do not try to spam there from day one by posting some links rather engage with all the users who are participating in those discussions.
Once enough users start communicating with you then you can just give your link of any website if you have.
In the beginning, you can follow an account that is your niche and is also popular. There are 2 benefits of following such accounts, firstly you will get many people with whom you can discuss about your topic and secondly you will also get new content ideas.
Plan your tweet time
Many people do not pay attention to this point and tweet at any time of the day. If you are not a very popular handle then you should make your tweet timing a part of your planning.
For example, if you tweet at 11:00 on Monday, it is obvious that your tweets will reach very few people because there are very few active members.
According to a survey, the best time to tweet is between 8:00 to 10:00 in the morning and 6:00 to 9:00 in the evening, when people are free from their work and spend their time on their social media accounts for news or entertainment.
Also, keep in mind that where is your target audience. If your target audience is from the USA, then you will have to adjust your tweet according to the time of the USA.
If you have a new account and you do not have many followers, then using trending hashtags can be a very good idea to make your tweet go viral.
You can use hashtags according to your targeted area. For example if you want that your tweet should go viral in USA or UK then you can choose trending hashtags for that region. In a previous post, I have described in detail how you can find trending hashtags for a particular region without using any third-party app.
Another great way to make your tweet viral is to tag a handle that is popular and has a lot of followers in your contact or tweet. Do not tag any account randomly. You tag the same account which is related to your contact somewhere. If the tagged account folder will retweet your tweet, then your contact can go viral and its reach can increase manifold.
Add Humor
Add a little humor in your Tweet wherever it is possible. A survey found that tweets with humor go more viral than serious tweets, and their reach is many times more. But also remember this thing that you do not have to show your funny way on every tweet, but you must apply it in any tweet where there is scope for it.
Track your numbers
You can see the analytics of any of your Tweets to judge how well your strategy works. To see the analytics got to your profile and click the analytics button present under every tweet which belongs to you. There will be analytics shown for the tweets of others that you have retweeted.
You can see your numbers like in the below image, it will help you to plan your future activities accordingly.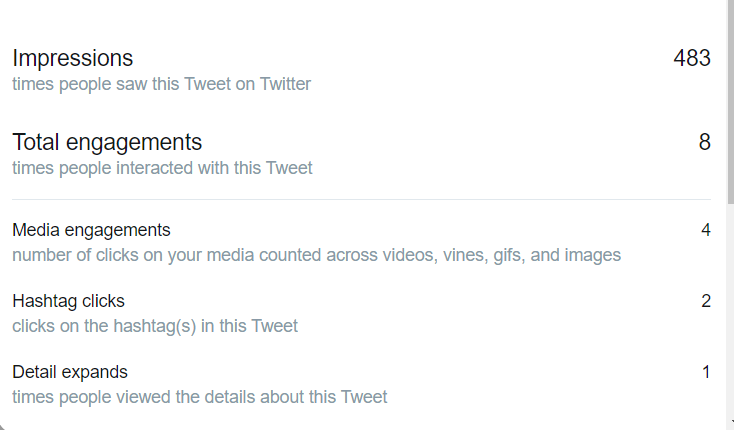 Wrapping up How To Go Viral On Twitter Without Followers
So these were some easy ways by which you can try and make your tweet viral without many followers. You must try them on your Twitter account and compare this result with the previous result.