Are you struggling in your career and searching for how to earn money online in India. Then do not worry and brace your seat belts because we are going to discuss almost all possible but legal ways to earn money online in India.
Many of you may be struggling in your career or they don't like what they are doing as a job, or you may be a housewife or student who is wondering how to earn money online in India. Everyone loves money and e-business is the future.
But things have changed a little after 2020 but still, online work has a huge potential. It is like a jungle, the more you go deeper more you find opportunities.
We will discuss how to earn money online in India for students and how to earn money online in India for students.
Making money online is quite common nowadays and some people even are earning six figures. But you have to little careful before you really start your journey.
Making money online will take little time, so you have to keep patience. Nothing is achieved overnight but with time and your continued effort, you will see the meter ticking. It may start with small amounts but once you become a pro you will find money easily.
Ok here is 17 ways how to earn money online in India
By starting a blog
By starting a Vlog
By becoming a WordPress developer
An SEO specialist
A Graphic designer
Start your own content writing service
Instagram influencer
Facebook page
By selling your photos
By starting an online Troubleshooting work
Selling your course
Buy and sell domains
By translating a certain article to other language
Mobile App devlopement
Voice Over
Data entry
Read and review books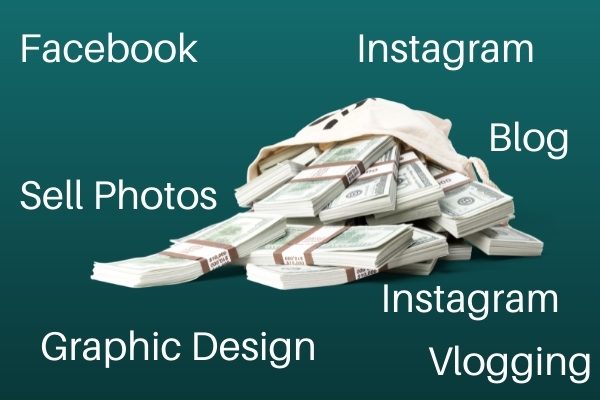 Starting a Blog
Blogging is the age-old formula to make money online but still one of the best ways to earn without much investment. Even you can start a blog even without investment and you can read a step-by-step guide on how to start a blog in India and start earning.
You can start with a micro niche blog and once it starts getting authority then you can expand your area of cover. You can read the post to get more than 100 ideas to start a new micro-niche blog.
There are many ways to earn money in blogging such as advertising, affiliate marketing, guest blogging, backlink building, etc.
Starting a Vlog
Videos have become quite popular in India due to cheap internet data and their views have also increased a lot. Just like in blogging, you tell your readers your solution by writing, similarly in Vlogging, you convey your point of view or content to your viewers through video.
Vlogging has become quite popular in India for the last five-six years and will continue to maintain its popularity even further. I have given ideas to start this in many of my posts.
For example, you can start a food vlog or travel vlog. Apart from this, you can start your own blog about whatever you are interested in or have expertise in.
There are many platforms to start it and most of them are free. If you want, you can also start vlogging journey with the help of your smartphone and when you start earning a little bit then you can upgrade your equipment.
Many successful bloggers started their journey with bare minimum equipment. Content is more important than equipment but the combination of both is better.
WordPress Devloper
WordPress is the most used CMS in the world and millions of websites are on the platform. Most WordPress users are not pros and get stuck at some moment when they seek the help of an expert.
Many first-time bloggers don't even know how to customize a WordPress website and here you can step in. You can provide your service in exchange for money.
There are many platforms like Upwork, Freelancer, Fiverr where you can find jobs. Even you can find these jobs on Facebook and Linkedin where people seek help.
Facebook can really help you as there are many communities and groups where you find people seeking help. You can help people initially to develop a trust factor.
SEO specialist
SEO is one job that is most in-demand and will remain. If you are new to this field then you can give some time to learn. There are tons of free content over the internet. You can read blogs, watch Youtube videos, and even opt for free online SEO courses.
Graphic Designer
Graphic design is another excellent way to earn money online in India. If you know Photoshop or Coral draw then you can get freelancing jobs from different platforms like Fiverr, Upwork, or even Facebook.
Even if you are not proficient with these then also you can start a graphic design job using online tools like Canva or Crello. There are tons of content online from where you can learn how to use these tools and at the same time you can also earn by taking up freelance projects.
To develop a trust initially you can offer free or very cheap service. Once you develop a user base then you can demand more money from your clients.
Content Writing
Content writing is an age-old job that is still relevant and will be in the future because this is one of the rare fields where AI is not going to work.
You can always learn how to write content and master it in few days. There are many tools that can help you in writing content.
In the beginning, keep your charge a little less like 10 or 15 paise per word. Then gradually as your experience and quality of writing improve, you can increase your price. If you want, you can provide content writing services in different languages.
This will help you to earn money online in India for a long time to come and also you can go for international clients once your writing quality improves.
Instagram influencer
Social media apps such as Instagram are no longer just a means of communication but have also become a way to earn a lot of money. Through Instagram, you can earn money online in India by becoming an Instagram Influencer.
You need to keep patience to grow your Instagram account to the level where you can become an influencer. Companies approach influencers for their brand promotion, you can charge according to your niche and number of your followers.
You can learn how to increase your Instagram account.
Facebook page
On this day, the Facebook page has become not only a way to grow a business but also a beautiful medium to earn money. The best and easiest way to earn money from your Facebook page is to put copyright-free videos on your Facebook page. Facebook is promoting its video platform a lot and also rewards good money to video creators.
Apart from this, you can earn money from Facebook Instant Articles now, but for that, you need to have a website of your own.
You can also do product promotion or brand promotion on your Facebook page. For this, you can charge those brands who want to take your service. But all this is possible only if you have good likes and interactions on your Facebook page.
S

elling your photos
It is hard to believe this but yes you can earn a lot of money online even by selling your photo in India.
The only criteria for this are that all these photos have been taken by you and are of good quality. You cannot give by copying photos from any social media or from another site.
You can definitely submit photos or templates by making them if you have a little knowledge of graphic design.
This is one of the best and easiest ways to earn money online in India.
So here are some websites where you can create your account for free and submit your photo. If your photo is approved, then as soon as someone downloads it, then you will also get some part of that revenue.
Getty Images
Shutterstock
iStock
500px
Stocksy
Can Stock Photo
FreeDigitalPhotos.net
Adobe Stock
Fotolia
PhotoDune
Alamy
Twenty20
Depositphotos
Dreamstime
GL Stock Images
S

tarting an online Troubleshooting work
Starting a troubleshoot work is a quite new idea to earn money online in India as the concept is quite new to India.
The best time to start any profession or business is when that business is starting itself. Because this is the time when there is less competition and more money. As soon as people keep coming into it, the competition also increases and the money also decreases.
You can do online troubleshooting such as any software deficiency in computer or laptop, any issue in the software of Android mobile, or any such thing in which you are well versed.
Selling your course
If you have mastered something or you are good, then you can sell your course by making a video. It is not necessary that you have knowledge of laptop or mobile for this, you can make a course about anything like cooking, gardening, any home appliance repair, sewing embroidery, etc.
If your contact is good and the video quality is good, then you can monetize your video course on many platforms. Such as Thinkific, UseFedora, Udemy, WizIQ, OpenSesame, TalentLMS, SkillShare, 360training, Kunerango, LearnWorlds, Courseplay, Coursecraft, Pathwright, etc.
Buy and sell domains
Buying and selling domains can be a very good business so that you can earn money online in India. In this business, you will have to invest a little in the beginning but it is very little which you can manage.
But the most important thing is to know its tricks because you will not benefit from buying and selling any domain. You have to find the same domain that someone has already worked for and for some reason he has not renewed that domain and in the eyes of Google that domain is still live.
There are many such domains that are not live in today's date, yet their authority still remains in the eyes of Google. Such domains will sell out quickly and buyers will pay a high price to you for them.
By translating a certain article to other language
There are many people who want to translate their post articles or other things into other languages, but they do not have the knowledge of that language. In such a situation, those people look for such a person who, along with having knowledge of that language, knows how to write properly. For this, now you can charge forward from 10 paise to ₹ 1.
You will find such work in online platforms such as Fiverr, Upwork, Freelancer, here people are looking for a translator.
Mobile App devlopement
You can earn money online in India with mobile app development.
In today's date, everything is happening online and even small companies are making their mobile apps so that they can reach more and more people.
In such a situation, you can help people to do their app development. Mobile app development is not a very difficult thing. Even if you have not learned, then within 3 to 4 months you can learn.
For this, you can learn online or offline from any platform where you feel right and it is easy for you to understand.
Voice Over
Voice over as it's known is self-explanatory. It's usually when you hear someone's voice narrating a commercial, audiobook, movie or television program, video game, or even a live event.
In a nutshell, you are compensated for lending your voice to a project that requires one.
It's not difficult to find work as a voice-over artist that you can do from home.
There are many platforms where you can find online voice-over jobs.
Fiverr
Upwork
Voices.com
voice123
voice crafter
Data Entry
Data entry is an age-old job and still has relevance to earn money online in India. If you are well versed with Microsoft Excel then this job is for you. Learning Excel is not rocket science and you can learn for free from Youtube.
Learning tricks of Microsoft Excel will cut your long job short. There are many platforms where you can register and get freelance data entry jobs.
Earn money by reading and reviewing books
There are many websites where you can earn money by reading and reviewing books. If reading is your hobby then this job is definitely for you.
Some of the platforms use your review as credentials to sell their books while som others use your service to improve their books.
The amount to read and review a book can vary from publisher to publisher.
Here are some platforms where you can register yourself as a book reviewer to start earning money.
There are many others too which pay you for reading and reviewing books. Reading books is a great way to earn money online in India if you are passionate about it.
Wrapping Up
These are some easy ways to earn money online in India. If you have any questions or doubts then you can comment below.